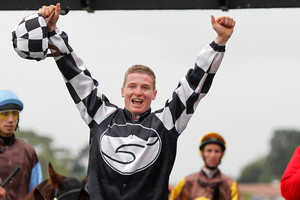 Trainer Allan Sharrock intended having the biggest bet of his life on Shez Sinsational in yesterday's $500,000 Stella Artois Auckland Cup at Ellerslie.
Rain one hour before start time put him off.
Sharrock revealed how much he intended plonking on Shez Sinsational, but didn't want it published.
The bet itself would have bought a nice car.
The return when the mare won in a close finish would have bought you three very nice cars.
"The rain negates her brilliant sprint and I didn't want to take the risk," said Sharrock, "I just wanted her to win."
Those around Sharrock in the public stand must have thought the Taranaki horseman had 10 times the intended bet on the mare.
"I yelled my bloody guts out when they were coming down the home straight," admitted Sharrock.
"I kept yelling, 'Hit her, hit her.' People around me were all looking at me and not the race. They didn't know who I was."
Sharrock likes the anonymity of standing among the public on the outside stand when he has a real chance in a major race.
By chance this time, handicapper Dean Nowell stood alongside him.
"That's the best bit of barracking I've seen," said a bemused Nowell. There has always been a lot of emotion around the racing form of Shez Sinsational, more recently since the ill health of Sharrock's father, retired trainer Bob.
Sharrock senior's health has prevented him from seeing any of Shez Sinsational's three group one wins, the Zabeel Classic at the Christmas carnival, the Darci Brahma Classic at Te Rapa last month and yesterday's feature.
Emotion started to creep into Allan Sharrock's acceptance speech and he cut it short with: "This is for you, Dad."
Yesterday's race - albeit $500,000 and group one - was a train stop along the journey.
The big picture is the A$6 million-plus Melbourne Cup in November which Shez Sinsational qualified for yesterday.