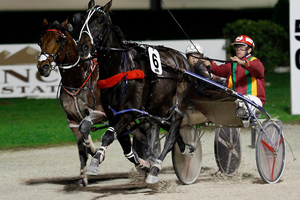 If Franco Emirate wants to make the most of one of the great historical advantages in harness racing he might need to do it in Friday night's Auckland Cup.
While he has put himself on the pathway to greatness he has also shortened his off-ramp options.
The giant pacer faces an outside draw in the $250,000 Trotting Cup at Alexandra Park but such is his reputation he will still start among the favourites.
He has history firmly on his side because last season over this track and distance he won the Messenger Championship, which is pacing's pathway to the top.
Of the previous nine Messenger winners, eight have gone on to win a New Zealand or Auckland Cup, with the only one to have missed, Tintin In America, a close second in the Auckland Cup before breaking down.
So Franco Emirate has much to live up to but, unfortunately for his connections, only half the chance to keep the Messenger magic going.
He may never contest a New Zealand Cup, or any other standing-start race again, after blowing his attempts from behind the tapes last spring.
That has seen trainer Jim Curtin keep him to mobile racing, making Friday night's Cup his main aim for the season.
He looked above himself when third in last Friday's NZ Herald Free-For-All but Curtin says that run served its purpose.
"I thought he'd be short but it was exactly what he needed," said the Canterbury horseman.
"He tends to come to hand very quickly after one run and I think he will be close to his best on Friday."
As he will need to be from barrier eight, with all the favourites drawn inside him.
From there he would have little option but to pull back to near last and make a mid-race move that seems sure to see him racing parked at some stage in a race that could lack pressure.
Not that Franco Emirate is a newcomer to overcoming bad draws. He won his division of the Harness Jewels in June from off the speed, against the racing pattern of the day.
While he disappointed in a Victorian campaign in the early summer, Franco Emirate still has the potential to be a special horse, which he may need to be to win on Friday night.
Victory would give Curtin his own unique place in the chapters of New Zealand pacing's great races.
He drove Terror To Love to win the New Zealand Cup in November so would be one of the few, if any, horsemen to train and drive an Auckland Cup winner the same season as driving a different horse to win the New Zealand Cup.
In Curtin's absence, David Butt will partner Terror To Love, who because of reputation and his ace draw could possibly start favourite even though he was unplaced in the lead-up last Friday.
Sir Lincoln remained the $3.60 favourite last night over Terror To Love at $4 and Franco Emirate at $5.
Betting for Friday's Woodlands Derby has been completely stifled by punters' lovefest for yet another southern invader, Smolda, who is in to an unbelievably short $1.60, pushing all the other favourites out to great money.