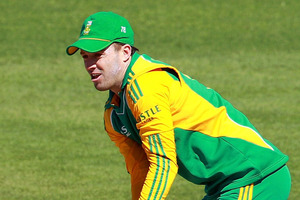 A new South African captain, and a different buzzword.
When the first test starts at University Oval today, Graeme Smith will be in charge for the visitors. Where AB de Villiers gave "momentum" a thorough bashing during his leadership of the Proteas in the six limited-overs matches, long-time test skipper Smith favours "confidence" as the key element.
South Africa have built it up in the course of winning the past five T20 and ODI internationals, and while the personnel has changed to the extent that more than half of their likely XI will be having their first game in New Zealand, Smith expects the work done over the past few weeks will rub off positively on the newcomers.
"Momentum is an interesting word, but I think confidence is always a key factor," the 96-test veteran said yesterday. "How deep your confidence runs as a team or as a player."
South Africa's batting will revolve around Smith, Hashim Amla, Jacques Kallis and de Villiers.
The bowling is in the hands of speedsters Dale Steyn and Morne Morkel, with the fast-rising Vernon Philander, a brisk bowler who gets plenty of movement and has taken a remarkable 30 wickets in his four tests so far, and bouncy Lahore-born legspinner Imran Tahir.
Throw in wicketkeeper Mark Boucher, on his third tour of New Zealand and with 144 tests behind him, and while the official rankings have South Africa No 2, that might be a shade unkind.
New Zealand, not to put too fine a point on it, are up against it.
Yet Smith is slightly bemused at the negative talk about the home side.
"I think any time you get clean swept in any series the fans get a bit despondent, but we're by no means taking them for granted and expect the series, especially the first test, to be a really big challenge.
"New Zealand brought us here for a reason," he quipped of chilly Dunedin.
The numbers are all in South Africa's favour. They have won 20 of the 35 tests against New Zealand since 1932; in New Zealand the hosts have won one - in 2004 and Dan Vettori, Brendon McCullum and 11-wicket hero Chris Martin played that match - and lost six of 14.
Smith is over his bruised left elbow, if not 100 per cent, he admitted. Kallis has a dodgy back but is expected to be fit.
New Zealand's challenge will be to keep close to South Africa. Any small advantages must be capitalised on.
They have won their past two tests, and their bowling attack, likely to be the four fast-medium men supplemented by the clever Vettori's spin, should be combative and competitive. It is in the batting where New Zealand's issues lie.
Rob Nicol will make his test debut opening with Martin Guptill, maintaining their limited-overs arrangement, dropping McCullum to No 3, and Kane Williamson to No 5. Vettori is at No 6 with new cap Kruger van Wyk at No 7.
Ross Taylor returns after missing the last 11 limited-overs internationals since tearing a calf muscle on January 27 against Zimbabwe.
He believes team morale to be "pretty good" despite events of the past couple of weeks.
Call him a pragmatist if you like, but Taylor was reluctant to describe his team as confident of their chances.
"I wouldn't say we're confident, but we want to get out there and show what we're made of. We need to show a lot of spirit in playing for our country, and a lot of fight."
NZ V SOUTH AFRICA
First test, University Oval, Dunedin, 10.30am today:
New Zealand: (from) Ross Taylor (c), Martin Guptill, Rob Nicol, Brendon McCullum, Kane Williamson, Dan Vettori, Kruger van Wyk, Doug Bracewell, Tim Southee, Trent Boult, Chris Martin, Andrew Ellis.
South Africa (probable): Graeme Smith (c), Alviro Peterson, Hashim Amla, Jacques Kallis, AB de Villiers, Jacques Rudolph, Mark Boucher, Dale Steyn, Morne Morkel, Vernon Philander, Imran Tahir.