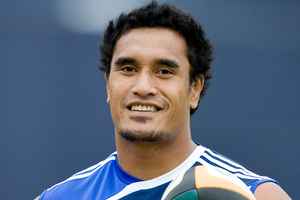 Even experienced rugby players like Jerome Kaino feel the extra bite when they visit the Bulls' home cauldron.
The vagaries of the Super 15 draw meant the Blues ducked that duel last year but they have to get past the Bulls this weekend to halt their ropey start to the series.
In contrast the Bulls, under new looseforward captain Pierre Spies, began with a strong win against the Sharks and then opened the throttle against the Cheetahs.
"The Bulls have been on fire, but our guys will be focused on getting the job done," Kaino said. "The Bulls have been pretty good despite losing a lot of their experienced players. The two locks have slotted straight in where Victor Matfield and Bakkies Botha were."
Others missing from the Bulls' roster this season are halfback Fourie du Preez and forwards such as Danie Rossouw, Guthro Steenkaamp, Derrick Kuun and Gary Botha, while new halfback Francois Hougaard is suspended this round.
Kaino is at home, resting a damaged shoulder, but he understands the obstacles in claiming a result in the rarefied high-veld atmosphere at Loftus Versfeld.
The Blues' last two visits have come up empty, beaten 40-19 in 2007 and then walloped 59-26 in Pat Lam's first coaching foray in 2009.
"You try not to make too much of a fuss about playing in the high veld," Kaino said. "In the past we have let it play on our minds a bit too much but we have to treat it like we are playing at sea-level on a normal field."
Any in the Blues party who believe that will get a shock when their bus turns into the Kirkness St ground entrance where Bulls supporters will start banging on the side and chanting insults.
"We cannot look for any excuses this week, we have to put in a good performance and get the result," Kaino said.
"Loftus is always pretty packed when we play there and they are very vocal. It is one of the factors which makes that ground so tough to play at. The drive in gets the butterflies going but you have to try and feed off that. They'll cheer the visitors if they do something well so the Blues have to work on beginning strongly."
It does not get any easier for the Blues the following week when they have to meet the Stormers, who have a bye this round, he said.
"It is a tough trip but we have planned this trip for a long time and I'm sure the coaches and leadership group have got plans in place to get results. Our first two games we had a hard look at things but as we all know they did not pan out. So we need to really hook into these next two games and get some points and get our season going."
Lam will announce his starting side tomorrow with former All Black Brad Mika, Chris Lowrey or Peter Saili options to fill in at the back of the scrum. After the debacle in Hamilton, the coach said his displeasure would be reflected in his next selection.
Senior men like Ali Williams and Daniel Braid will come in for some heat while a refreshed Ma'a Nonu will probably come in at second five-eighths for Benson Stanley.
Ask Kamo: Former All Blacks Ian Jones answers your questions on the state of rugby in Friday's SuperSport.