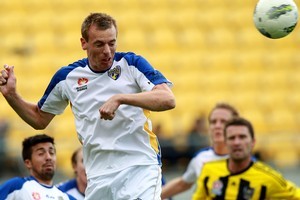 Wellington 2
Gold Coast 0
Yesterday's gritty win over cellar dwellers Gold Coast United was enough to springboard the Wellington Phoenix back into third place on the A-League ladder but only after more than a few anxious moments in sealing their 12th win of the season in stoppage time at Westpac Stadium.
The Phoenix struggled to turn their many chances - they had 16 corners - into goals, as the battling Gold Coasters fancied their chances of shrugging away their off-field woes and snatching an unlikely third straight draw.
In the end, a 28th-minute Andrew Durante goal, set up by a Leo Bertos freekick and a Ben Sigmund header broke the first-half deadlock, after the home team had squandered an embarrassing number of chances.
After a more subdued second half, the Phoenix made certain of maximum points two minutes into added time when substitute Nicky Ward finally beat gallant goalkeeper Jerrad Tyson in a comical display in front of the Gold Coast goal.
Ward and fellow substitute Mirjan Pavlovic each had a couple of shots blocked before the ball fell kindly for Ward who fired home from close range.
While Mark Paston eventually savoured a second straight clean sheet there was always the feeling that the visitors were good for a goal which could have thrown Phoenix hopes into disarray.
While not on the back foot as much as they were in snatching that 1-0 away win over Sydney eight days earlier, the Phoenix should have done better against a United side who travelled only after a late court injunction (on Friday night) cleared the way for the game to proceed.
Missing key players and with stand-in coach Mike Mulvey forced to give more youth a chance - he put out a team with an average age of just 23 years - the visitors battled bravely. On the wrong end of a 16-4 corner count and forced to defend a number of Phoenix attacking freekicks, Gold Coast refused to yield - led by a brave display from Tyson.
Forced to rejig to cover for the absence of an ailing Tony Lochhead, the Phoenix were not as settled as they have been with Vince Lia taking the left-back role and Alex Smith given a reprieve in midfield.
While Bertos ensured a good supply of ball from the flanks his efforts led to little as Paul Ifill and Chris Greenacre were given no change by a resolute defence.
There is no time for the Phoenix to reflect. They now head to Melbourne where they will stay for a week as they take on the Heart and then the Victory - two teams battling for a place in the play-offs.
A win over the Heart this Saturday would give the Phoenix a big enough buffer to almost certainly cement their spot in the playoffs.
A loss would throw the scramble wide open, especially if fourth-placed Perth Glory can upset leaders Central Coast Mariners on Sunday.