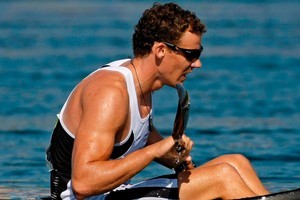 New Zealand kayaker Ben Fouhy is likely to head to the London Olympics after qualifying for the final in the MK1 1000 at the Oceania Championships in Sydney yesterday.
Qualifying for the final was enough for Fouhy, who was disqualified in the showpiece event after a technical issue involving weed on the Penrith course. He had easily won his heat.
Fouhy has yet to win selection for London but he is likely to be a shoo-in given his form. He has been a controversial figure in the past, giving up the sport for a time due to row over funding with Sparc, and also becoming embroiled in a dispute with kayaking identities Ian Ferguson and Paul MacDonald.
Fellow Kiwi Teneale Hatton qualified in the WK1 500 after making the final where she finished fifth, which along with Fouhy's qualification will add to extra berths to London for New Zealand boats.
Fouhy is also competing today in the MK2 1000m event.
New Zealand Lisa Carrington who was trying to add the 500m title to the 200m she won the previous day but was beaten by Australian Alana Nichols in a close race.

- APNZ