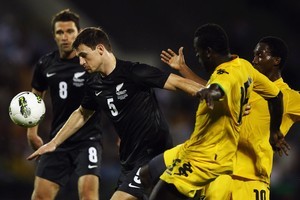 In a match full of young guns, few were better than Tommy Smith last Wednesday.
Smith was one of the standouts against Jamaica, on the back of a club season that has tested him to the limit.
He was everywhere for the All Whites at Mt Smart Stadium, defending stoutly and advancing forward regularly in the second half, even going close to scoring on several occasions.
The 20-year-old looked composed, assured and confident; a far cry from the situation last August at Ipswich Town.
After an opening day victory, the Tractor Boys lost three consecutive matches at home, including a 5-2 pasting away to pacesetters Southampton.
On August 20, they travelled to Peterborough for a match televised across the UK. Smith had been dropped to the bench but was advised at halftime he would be coming on, with Ipswich already 4-1 down in the Championship clash.
"I got myself warmed up and ready and then 67 seconds in, the referee judged I had brought this guy down," recalls Smith.
"I thought he had fouled me to be honest."
Smith received a straight red card and Peterborough were also awarded a penalty.
"It was the way my luck was going at the time on the pitch and that was the sum of it all really. It was quite a low point in my career."
The eventual 7-1 defeat was their biggest in almost two decades and saw Ipswich drop to 20th in the 24-team league. Smith was banished to the reserves and did not feature again for the next 20 league matches.
"I had to go away, work hard and try to get back into the manager's plans. When something like that happens, it does dent your confidence quite a lot. Every day, you have got to try and do well on the training field and impress him - so he remembers who you are. You want to catch his eye, make him believe in you again."
Eventually, Smith returned to the side in early January and has played virtually every match since.
Smith is no stranger to tough times. Before current boss Paul Jewell, Smith played under Roy Keane, the firebrand ex-Manchester United star.
"He has got that hard nut reputation but it is not as bad as it seems," says Smith. "He comes across quite well when you are in person with him, though he can lose his temper just like anyone and you wouldn't want to be on the end of one of his rollickings."
Halfway through his reign at Portman Road, Keane stopped participating in training matches, joking that he wouldn't speak to anyone for two days if he lost, while he famously left three players behind for an away trip when at Sunderland after they were late for the team bus.
"It gets pretty intense if he loses it," recalls Smith. "You can laugh about it afterwards and nobody would hold any grudges - we just knew that was his personality and how he wanted to manage the team and how passionate he was."
Ipswich Town's glory days came in the late 1970s and early 1980s, when they won the UEFA Cup and FA Cup and finished runner-up in the first division in consecutive seasons. They were founding members of the Premier League but have been one of the 'elevator clubs' and were last in the top tier in 2002.
"It is still a big football town and the derbies last year [versus Norwich City] were massive games, though we were on the wrong end of the results.
"They got promoted, which rubbed our noses in it as well. The fans are good though; they don't really talk about the games too much - they realise a lot of it is down to the manager," says Smith.
A graduate of the Ipswich academy, he signed professional forms as a 17-year-old in 2007 and made his first team debut just over a year later.
That time in a professional environment meant he adapted quickly to international football and excelled in South Africa; a second half tackle against Slovakia which saved a certain goal will live long in the memory, as well as his dogged work a few days later in the epic 1-1 draw against Italy.
Some feel he might be the answer to New Zealand's problematic left fullback situation, with question marks still hanging over Tony Lochhead at the highest level.
"I've played there in the past and I am comfortable there. It is not a strange position to me though obviously my preferred position is centre back. I'll play anywhere the manager wants me to play to be honest and [fullback] gives me a chance to attack, which is exciting."
After his whistlestop Auckland visit, Smith is back in action (overnight NZT) against Chris Wood's Bristol City. The two travelled back to England together, with Smith giving his national team-mate a ride from London to Suffolk.
"I'll be taking him up to Ipswich, so we'll be straight into a bit of rivalry - I won't speak to him the whole way home," jokes Smith. "No, not really; he's your enemy on game day but other than that, we are still mates."
Wood has yet to score against Smith in their respective careers and the defender is hoping his streak against fellow All Whites can continue, with Ipswich having beaten Winston Reid's promotion-chasing West Ham 5-1 earlier this year.
"I know all his tricks," says Smith of Wood. "I'll let him out of my pocket after the game."