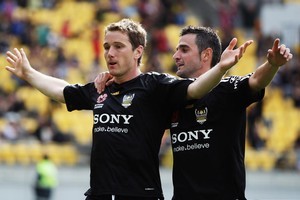 While most see today's match against the Gold Coast as a banker for the Phoenix, the Wellington side have reasons to be wary.
The Queenslanders have endured a shambolic week, with former owner Clive Palmer eventually losing his battle to retain control of the club, with courts in Australia uphold-ing the FFA's decision to strip his A-League license.
The squad will suit up for the last four games of the regular season but there has been massive uncertainty , with Palmer apparently telling them of plans to form a breakaway league. Aside from that bizarre suggestion, there are no guarantees that their contracts will be honoured next season.
Today's match was only confirmed late on Friday night and the Phoenix are privately wary.
More than any other club, the men in yellow and black can relate to the turmoil in Queensland. They endured 18 months of drama around the Terry Serepisos financial saga and then, this season, barely had numbers to make a team as injuries bit into their already small squad.
But often the tough times galvanised the team as they performed beyond expectation.
"No matter what is happening off the park, it is all about focusing on doing your job on the field," said Phoenix captain Andrew Durante. "Sometimes difficult times can even bring you together closer - you have something to prove."
That has certainly been the case for Gold Coast in recent weeks, as they have held the Melbourne Victory (1-1) and the Mariners (3-3) in two of their best performances of the season. The latter result was particularly impressive, and youngsters such as Ben Halloran (who scored a spectacular goal against the Central Coast) have been standouts in a team that is blessed with plenty of pace.
That said, nothing less than three points will suffice for Ricki Herbert's men. Not only will a win see them regain third spot on the ladder, it is also necessary insurance ahead of a tough run home, with away matches against both Melbourne sides followed by the visit of the Central Coast to end the season.
Tim Brown and Tony Lochhead have had light training duties this week after the midweek All Whites match, while the latter has also been affected by a cold.
The team's training session yesterday was cancelled, with Wellington Stadium needing to be preserved after heavy weather and their training field at Newtown Park underwater.