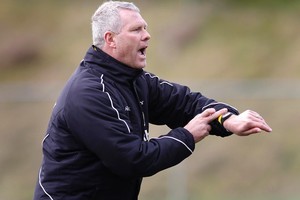 Ricki Herbert played a trump card in making the then radical switch to a three-man All Whites defence at the 2010 World Cup and was rewarded with the only unbeaten record at the tournament.
He has stuck with the same thinking since - with differing results - but after watching the national side go down 3-2 to Jamaica at Mt Smart Stadium hinted that changes might be in the wind. Not that he wasn't pleased with what he had seen, more an admission that it might be time to move on.
The young players generally fronted well and won plenty of plaudits for their efforts in difficult circumstances. It is never easy stepping off a plane on to a soccer field but no one was using travel fatigue as an excuse in what was an enjoyable spectacle appreciated by the 15,000 or so fans.
"We can now look at playing a different formation," said Herbert. "There are alternatives to the back three we have used recently."
But only if there are players equipped to slip into a 4-4-2, 4-3-3 or any other line-up he may opt for.
While Tommy Smith, Winston Reid, Michael McGlinchey, Marco Rojas, Kosta Barbarouses, Chris Wood and Jeremy Brockie responded to Herbert's "give youth a chance" mantra and turned on an exciting brand of play against one of the fastest teams in world soccer, there were others who may be approaching their "use by" date.
Left back has long been a bogey in New Zealand soccer.
At the Phoenix and in the All Whites, Tony Lochhead has long won Herbert's approval but is it time, if there is a switch to a back four, to go with Smith or Reid?
There is little doubt Lochhead can play the role - the ball he played in for Paul Ifill's match-winning header against Sydney FC last weekend attests to that - but is it time for a younger player to step into that role?
Much the same for Tim Brown in midfield. Like Lochhead, a favoured son in Herbert's eyes for both club and country, Brown struggled at times to stay with the pace of Wednesday's international. Dan Keat made a reasonable fist of it on debut off the bench. He deserves another chance. Leo Bertos has shown out as one of the country's best on either flank but he too must be made to fight for his place as the younger players make their mark.
On the other hand, the experience and heart Ryan Nelsen brings to the game is irreplaceable. Players of that calibre are rare in soccer here.
He and others like Ivan Vicelich, who has played the most full internationals for New Zealand, Chris Killen, Mark Paston, Ben Sigmund, Shane Smeltz all have a role to play but with the knowledge that there is now a group of younger players ready to accept the challenge and step up.
In going down to Jamaica, the national side lost for the 250th time (in 557 outings). Given what the younger brigade brought to Mt Smart, there is a genuine feeling that a new era beckons.
It is yet to be seen whether the match costs of around $400,000 were met.
New Zealand Football has yet to make any call on the home of future internationals but there has been a hint that everywhere is in the mix - but only if the All Whites emerge from June's Oceania Nations Cup to contest the next round of World Cup qualifiers.
Failing that test does not even bear thinking about.