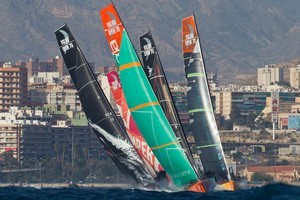 Like a pair of old lovers long separated, the Volvo Ocean Race and the city of Auckland are impatiently waiting to be reunited.
Although, as I write this, the six Volvo 70s are still thousands of miles away, there is no doubt that their skippers and crews are already thinking longingly of their arrival in the city famous for its huge welcomes.
While organisers here frantically assemble the Race Village that is already starting to dominate the Viaduct, those on board are unashamedly desperate to be first into Auckland.
Of course, sailors are always very keen to be first across the line in any race or, as in this case, in any leg. However, there is no doubt that there will be a bit more of an edge in the fight down the Northland coast sometime around March 8.
On every boat, bar current leader Telefonica, there are Kiwis on board.
That will provide some incentive, as will the expected welcome the first yacht is likely to receive.
As one of those lucky (or perhaps just old) enough to have experienced several such arrivals, it behoves me to strongly urge anyone who can to get out on the water and be a part of what is sure to be a huge occasion.
Those who witnessed the duel between Steinlager 2 and Fisher & Paykel or that between NZ Endeavour and Tokio will never forget those last few nail-biting hours.
On the evidence so far, there is a better than average chance another such epic tussle will occur this time and, if that is the case, it should not be missed.
For those on board Camper, there is obviously an added incentive to be first to the finish line off Viaduct Harbour. Not only are the vast majority of the team Kiwis but the yacht was designed, built and commissioned in Auckland, and all of their initial training was done here.
It is no secret that Camper head, Emirates Team New Zealand's Grant Dalton, has been less than pleased with his team's performance in the first three legs. Although the Kiwi-Spanish entry lies second on the points table, Dalton has never been one to be happy with second.
A seven-time round-the-world sailor, Dalton was instrumental in bringing the race back to Auckland after a decade-long absence. He will be bitterly disappointed in anything but a Camper victory on this leg.
While Camper skipper Chris Nicholson is no doubt aware of his boss's views, he is keen to arrive first in Auckland for other reasons, too.
"We have been so well supported in Auckland, right from the first announcement. It is important to thank that support and the loyalty we have been shown.
Nicholson is also keen to be first into what he describes as the best and most well-supported stopover of the race. It is a sentiment shared by many of the other skippers, too.
Telefonica's captain Iker Martinez describes Auckland as a special place "for all the people who like sailing". He believes Auckland will be one of the best stopovers of the race and thinks it will be "very significant" to arrive first.
For Groupama skipper Franck Cammas, winning into Auckland would be especially sweet.
"France could not beat New Zealand in the last Rugby World Cup," he jokes, "it would be a nice revenge to beat Team NZ in Auckland."
However, Cammas also acknowledges that Camper is not the only difficult team to beat. "There are Kiwis on almost all boats!"
One of those is Groupama crewman Brad Marsh and Cammas is already on record saying he wants Marsh to be the first Kiwi into Auckland.
Puma skipper Ken Read knows Auckland well, having been based here during the 2000 and 2003 America's Cup regattas. He says he didn't like having to pass north of New Zealand in the last Volvo and believes that the race and Auckland are "the perfect match". He too is keen to reward his Kiwi crew, Brad Jackson, Tony Mutter and Kelvin Harrap, by being first across the line.
Experienced Volvo campaigner and current champion skipper Mike Sanderson has been Tail End Charlie so far this time around and would dearly love to change that here. Although Sanya is officially a Chinese entry, the campaign is run out of a New Zealand company and has the Onerahi Yacht Club (Sanderson's home club) on the transom.
"My whole Whitbread/Volvo dream came from watching Peter Blake's Ceramco NZ come down Auckland harbour in 1981 as a 10-year old; then again as a young sail-making apprentice during that titanic struggle between Blake and Dalton in 1989 with Steinlager 2 versus Fisher and Paykel.
"I have some amazing memories of finishing in Auckland, the Auckland stopovers used to see crowds 10 times the size of any other stopover; it would be amazing to win into Auckland again."
This time around, spectators will have more chances than ever before to get up close to the race yachts. As well as the arrival and the departure (on March 18), there will be a Pro-Am up and down the harbour on March 16 and an In-Port race on March 17.
Even the departure, on March 18, will be more accessible than ever before with the yachts racing down and up harbour and then down again before heading up the East Coast Bays and turning east to Cape Horn and the next stopover in Itajal, Brazil.
First yacht expected:March 8
Pro-Am Race:March 16
In-Port Race:March 17
Leg 5 start:March 18
Go to www.volvooceanraceauckland.com
Race Village highlights
Viaduct Harbour (all free):
The Global Party: 9am-9pm daily on the PUMA Stage, Te Wero Island
The Volvo Experience: The Ride, 3D cinema, Grinder Challenge, Bouncy Castle, Air Balls & Pool, The Dome
Try Sailing: Have a go with free instruction and equipment
Pit Lane: Get up close to the world's fastest monohulls
Volvo Pavilion: Packed with multimedia and interactive displays and games
DHL NZ Marine Export Showcase: the best of NZ marine export products and services
Camper open day: March 14, 4.30-8.30pm