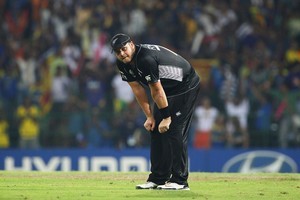 New Zealand cricket coach John Wright is losing patience with Jesse Ryder after the batsman's latest alcohol-related indiscretion but said the decision to omit Ryder from the side to play South Africa in next week's first test was based on form only.
Ryder and teammate Doug Bracewell were axed for the third and final one-day international in Auckland tomorrow after the pair became involved in a verbal altercation with patrons at a Napier bar after Wednesday's second one-dayer.
Both were recovering from injuries and team protocol dictates that, as part of their rehabilitation, injured players should not drink between games.
Neither were heavily intoxicated and the breach was on the minor end of the scale but senior players and management wanted to take a stand against the pair. Tarun Nethula was also drinking with the pair but was not on the injured list so did not breach team protocol.
It was not Ryder's first indiscretion with alcohol and former New Zealand Cricket chief executive Justin Vaughan had given him a final warning.
Large proportions of the New Zealand public are also losing patience with the talented batsman but New Zealand manager Mike Sandle said, because it was not a breach of their code of conduct, his contract was not in jeopardy.
But Wright is losing patience with a player who have often vowed publicly to give up drinking.
"We need cricketers who are responsible, accountable and professional," Wright said. "If you don't get that, you're not going to progress as team and not get support from the public, which is important to us. You're representing cricket fans throughout New Zealand and there's a lot of responsibility that comes with that, on and off the field.
"He's talented cricketer and it's up to him. Everyone has the opportunity to play if they perform and are fit and abide by some of the rules that go with being in a team.
"The door is open as far as I am concerned for any player but there are certain standards you need to reach performance-wise, fitness-wise and behaviour-wise in the team. We don't want be a team that has this happening."
Wright was at pains to point out, however, Ryder's omission from the side was form-related and he was "on the borderline" of selection before Wednesday's drinking session.
The 27-year-old returned to Wellington today but wasn't involved in Wellington's Plunket Shield match against Canterbury that started in the capital today.
His next opportunity will be Wellington's next Plunket Shield game against Northern Districts starting next Friday but Wright was hopeful changes wouldn't be necessary.
"Hopefully we play well enough in that [first] test where we don't have to think about things like that," Wright said.
The 13-man squad for the first test announced today included two test newcomers in Rob Nicol and Andrew Ellis as well a recall for Brent Arnel.
Ten players involved in the comprehensive innings defeat of Zimbabwe return, including Ross Taylor who will resume the captaincy after missing the limited overs games against the Proteas with a calf injury, but Dean Brownlie wasn't considered due to injury.
Sam Wells, who was part of the squad who played Zimbabwe, missed out as the selectors plumped for players with more experience. One player will be added if required to bring the squad up to the full complement of 14 players.
Bracewell has become an integral part of the side after his impressive showings against both Zimbabwe and Australia and retains his place in the test squad despite his indiscretion.
Sandle said he hoped it would act as a wake-up call for the 21-year-old.
"For someone like Doug, he's a young guy and come a long way in a short space of time, this has to be a really good learning curve for him," Sandle said.
It remains to be seen whether Ryder will ever learn.
New Zealand squad for the first cricket test against South Africa starting in Dunedin on Wednesday (March 7):
Ross Taylor (c, Central Districts), Brent Arnel (Northern Districts), Trent Boult (Northern Districts), Doug Bracewell (Central Districts), Andrew Ellis (Canterbury), Martin Guptill (Auckland), Chris Martin (Auckland), Brendon McCullum (Otago), Rob Nicol (Canterbury), Tim Southee (Northern Districts), Daniel Vettori (Northern Districts), BJ Watling (Northern Districts), Kane Williamson (Northern Districts).

- APNZ