Each week, former All Black lock Ian Jones answers readers' questions on the state of rugby.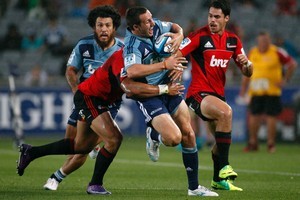 The Blues made a hash of what should have been a regulation finish for a good first five-eighths when Piri Weepu fluffed a last-second drop-goal from in front of the sticks. What's their best option for the No 10 jersey?
Michael Hobbs has been handed the jersey and I believe this is the right choice. Provided they stick with him for a decent period of time the franchise will reap the benefits as the year unfolds. Hobbs was given the nod because of his better defensive qualities and if he has half the rugby brain of his Dad (former All Black captain Jock) then he will be able to control play at this level.
What did you think of the Kiwi locks in round one?
The Highlanders pair of Nick Crosswell and Josh Bekhuis were the best on show for me. Crosswell's hustle and bustle provided the energy that his team feed off and Bekhuis' size provided the physicality that dominated the Chiefs.
Tom Donnelly's defensive lineout work should also be mentioned. He was very aggressive in driving his hands towards the ball.
Can the All Blacks get by with two skinny locks?
What's so wrong about a skinny lock - ha! Locking combinations need to be selected as a partnership, with the skills of the individuals complementing each other.
Each of them will perform a different role out in the middle when the game is under way.
We've got a good talent pool of locks. Whoever ends up in the black jersey, our locks will have the necessary skills, commitment and size to compete. Don't worry.
How can Otago rugby survive?
Dane, if you and I could answer that, we would be in high demand - and not just in rugby. The simple answer is to raise capital and cut costs (you don't need to be Einstein there), but I get the feeling there is no more room to move for Otago.
My only wish is that something good can come out of this and we all learn the lessons. Good luck, Otago.
Surely even you, an ex-All Black, thinks it's too early in the year for rugby.
I couldn't wait for this season's kick-off. It's been four months since we had rugby in this country and to experience once again the thrill and excitement of heading to the park to watch your team in action couldn't have come soon enough.
Get out there and enjoy it.
The Hurricanes sucked in South Africa and the Chiefs are all crocked. Are these teams the first roadkill of the season?
Don't write off any of our New Zealand teams, certainly not after week one. They play in a hard conference knocking each other about, but we get to watch and enjoy it every weekend so should feel pretty lucky.
Andrew, I hope your team exceeds your expectations and plays with the passion and commitment you desire.