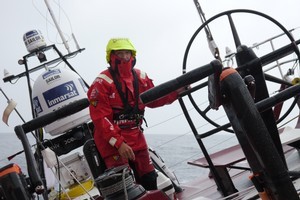 So a lot has changed since my last blog.
Sadly we no longer lead the fleet and are all within 50 miles of the same distance to finish, but spread over a 175 miles of ocean.
We are in the middle of the pack making best speed towards the southeast.
Still waiting for the breeze to shift so we can turn south. It almost feels like the boats are jockeying for position before the sprint south.
Life on board continues to be pleasant and temperatures are warming up again after a brief few nights with a slight chill in the air.
When conditions are steady we have been in training for pub quiz night with many Q&A sessions on a wide variety of topics from European geography to New Zealand cricket history (including all of the regretful details of the underarm incident) and everything in between. We should all be experts by the end of this leg.
I suspect some dishonesty amongst our crew. It seems you need to be very early to the snack bag, ie: the night before, if you want to get your share of treats. Never before has the cliché "If you snooze you lose" been so relevant. Consequently I have had to adjust my snack strategy to make sure I don't miss out. Culprits will not be named here but they know who they are. I am surprised it has taken this long for the food crimes to reach this level, I guess this is a good thing?
Anyway I will put my snickers bar wrapper in the rubbish and be off to my bunk.
STU BANNATYNE