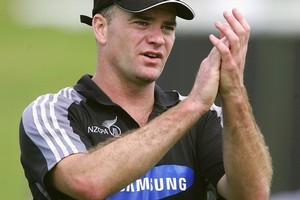 When renowned author Rudyard Kipling wrote about meeting with "Triumph and Disaster" in his late 19th century poem If, the thought of metrosexual males exfoliating, shaving and moisturising was probably far from his mind.
However, poetry has always held an 'each to their own' ethos re interpretation. As a result, former New Zealand cricketer Dion Nash is launching a male skincare company this week called Triumph and Disaster to offer a more contemporary - and cosmetic - meaning to Kipling's words.
"If is a father-to-son poem and it is something my father gave me, so it held a lot of personal relevance. The deeper message is about humility and risk and great lessons about how to live your life. It tied in with what I wanted to do with a brand targeting the average bloke.
"It's about doing things right to set you up for the day. The idea is you should clean, shave and protect your face in the morning. If you do those things before leaving the house, you'll give yourself every chance of dealing with triumph and disaster over the course of the day."
The same line that appealed to Nash, "if you can meet with Triumph and Disaster, and treat those two impostors just the same" features on the wall to the players' entrance at Wimbledon.
Nash also intends his products to tap into tradition: "There's an old-fashioned shave cream designed to be used with a brush, there's shearing soap modelled on what they used after a hard day in the woolshed, as well as a face moisturiser and a couple of skin cleansers."
One way to help a product survive is to have a secret marketing weapon. Nash has a chap named Phil. "I went to find a good chemist and bumped into Phil by chance. He used to make fragrances in France for major names like Christian Dior but has since moved back to Australia. He helped with some of the consultancy. His experience in the industry has been invaluable getting the products started and they've been received well in tests over Christmas with family and friends."
Nash says the concept's origin came through cricket but he hopes to extend into a wider segment of the market.
"As cricketers, we have always been a little bit on the metrosexual side, and putting on sunscreen and washing it off at night does lend itself to an understanding of the category.
"My research suggested there are a number of women-focused brands doing guys' stuff or big brands doing macho guys' products. Neither felt right. Shaving and grooming is something we should be proud of. I was looking for a market positioning where the average guy doesn't feel embarrassed about grooming - or feel like he has to be some Greek Adonis."
As a cricketer, Nash was a gifted practitioner in the art of persuasion (particularly with umpires) and carried that skill into the marketing department at vodka-making company 42Below. But he decided it was time to do his own thing.
"It would've meant spending more time away from my family and that was unattractive. Besides, the booze industry is a young man's game [Nash turned 40 last year]. The timing seems perfect. Triumph and Disaster; I guess it'll be one or the other."