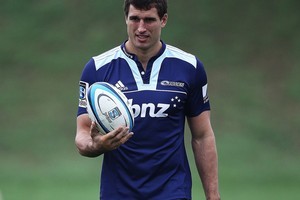 Next week, I'll be taking questions from readers, but to kick-start my weekly column, I'm looking at the key issue for each New Zealand Super 15 team.
How do the Blues turn all their talent into a title?
There are plenty of ball-runners in that Blues team. There's no questioning their ability to break the gainline, but the guys who are not the ball-runners have to develop a ruthless streak, something they have not necessarily possessed recently.
They need to be able to convert the linebreaks and the metres gained by their ball-runners into quick ball.
For me, the key player is Anthony Boric. He needs to make that his role. There's a hole in the All Blacks with the departure of Brad Thorn, and Boric needs to step up and make this hisyear.
This is the fourth year under Pat Lam. There should be no trouble understanding what the coach wants.
Can the Chiefs get enough ball?
The Chiefs forwards need to get out of the shadow cast by the backs.
It is a wonderful superstar backline, but that doesn't mean it's a weak pack.
They can field a loose forward trio, as talented as any in the competition.
The other key figure for the Chiefs is Aaron Cruden. He has superstars outside him, but he mustn't just shovel the ball along to them, because this kid is a star in his own right. I'd love to see him take games by the scruff of the neck.
Will the Hurricanes be the train wreck many are predicting?
I don't expect a train wreck. I think that's really unfair.
The players Mark Hammett has selected mirror him in a lot of ways when he was a player - tenacious, gritty and hard working. Good buggers.
In Conrad Smith, Hammett has a wonderful skipper.
We're going to see this year that rugby is not all about talent. If you have burning desire and an attitude that is uncompromising, you're never without a chance. Those qualities will shine through with the Hurricanes.
Is Todd Blackadder under a bit of pressure to deliver a title?
There is pressure on this franchise because they're perennial favourites and have not won a title since 2008.
But pressure won't bother them.
You've got to love everything about this team. The standards and professionalism they set are the benchmarks for the other 14 franchises.
When their All Blacks come back they don't drop from international standard to Super rugby standard; they demand that everyone else rises.
Can Jamie Joseph keep the Highlanders improving?
Yes, because they've recruited very well. They've brought in guys with old-school values and attitudes. They've also thought outside the square by bringing in someone like James Haskell. What Joseph did last year was remarkable, and they've just enhanced it in the offseason.
The guys they have brought in, like Haskell, Hosea Gear and Andrew Hore, will be comfortable with Joseph's methods and his expectations.
Hore is a brilliant signing. He's not going to have the armband, but he will be a leader.
The other thing in their favour is the new stadium and the excitement that will generate. Now is their one chance to make Forsyth Barr a fortress.