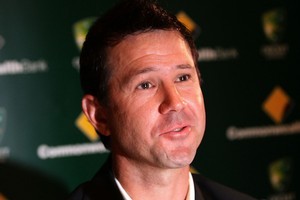 Former Australian paceman Geoff Lawson says Ricky Ponting is being incredibly self-indulgent and should have already retired from test cricket.
Ponting called a media conference on Tuesday at the SCG after his axing from Australia's one-day side.
The 37-year-old said he did not expect to get picked in the one-day team again, but he was determined to pursue his goal of winning selection for Australia's Ashes tour in 2013.
Lawson says if Ponting is true to his word about going out on top, then now's the time.
"I thought the press conference was one of the most self-indulgent little pieces of self-interest I've seen for a long time," Lawson said on Sydney's Sky Sports Radio yesterday.
"I listened very intently to it and there was a lot of 'I' ... 'I this' and 'I that' and 'how I'm good for the team' and I'm really annoyed by it."
Lawson urged Australia's selectors to start looking towards the future.
"If he doesn't make runs in the three [Sheffield] Shield games, I'm not sure why he should be going to the West Indies," Lawson said.
Former Australian captain Allan Border, whose 156-test career ended in South Africa in 1994 at the age of38, backed Ponting's decision to play on.
"He's still playing very good cricket as we saw in the last test series against India but his one-day form has been off his absolute best," Border told foxsports.com.au
"There's a feeling that the media feels as though it's a better thing if the player concerned sticks his hand up and retires gracefully but I just don't think that's in Ricky.
"He'll cop it on the chin. If his time is up and the selectors make the call, he'll accept that."
- AAP