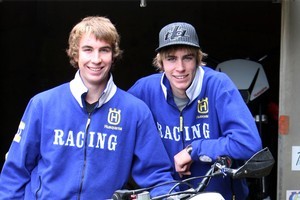 It is New Zealand's only extreme enduro - an event to test every nerve, sinew, nut and bolt - and it's true that not everybody can cope with, let alone finish, the No Way In Hell enduro.
But then Hokianga's Mitchell Nield is one hell of an enduro rider and his Gas Gas EC300 is one hell of an enduro bike - and we're probably going to hear a lot more about this bike and rider combination as he tackles the national enduro championships over the coming months.
The 23-year-old Nield was in scintillating form when he won this year's second annual Kiwi Rider-sponsored two-day No Way In Hell (NWIH) enduro at Oparau, in the Waikato.
This year's NWIH was an intriguing seesaw battle between the codes with five-time national trials champion and first-time NWIH competitor Jake Whitaker, of Wellington, pushing Nield throughout, while last year's inaugural NWIH winner, Auckland enduro ace Michael Skinner (KTM EXC300), had to settle for third outright this time around.
Whitaker (Montesa 4 RT) won the short prologue the previous day, finishing ahead of Te Awamutu's Kevin Archer (KTM EXC530), with Nield, Skinner and Hawke's Bay's seven-time former national trials champion Warren Laugesen (Beta Evo 290) rounding out the top five.
But in the longer duration racing the following day, Nield had the time and horsepower to nullify Whitaker's intricate trials skills, using his pace and enduro knowledge to shoot past the more balanced and calculating Whitaker.
"It was a multi-lap format this year, with a 15-minute rest period between each lap that enabled riders to catch their breath and gather their thoughts," Nield said.
"Jake had a line that I wasn't keen to try but I'd catch him up again in the fast bits. Jake would ride past me like I was a squid in the steep sections but, on the downhills, I was in my element."
Most of the riders had raced the opening round of the New Zealand Enduro Championships at the same venue earlier that weekend, adding to their fatigue, with only nine of the 51 starters completing three laps of the NWIH event. "I was pretty worn out at the end of all that," said Nield.
Laugesen finished fourth, Archer was fifth and 2010 national enduro champion Jason Davis (KTM EXC300), of Whangamata, rounded out the top six.
Taranaki's Dougy Herbert (KTM EXC300) won the expert over 40+ class, Tauranga's Jim Pattie (KTM EXC300) won the over 200cc Expert class and Tokoroa's Jesse Clarke (Husaberg TE125) won the under 200cc expert class.
Ngaruawahia's Kelvin Babington (KTM EXC-F 250) won the clubman class.
Nield had also won his over-200cc two-stroke class at round one of the Enduro Championships at the same venue just two days earlier, while his younger brother, Damon Nield, took his Husqvarna CR125 to top the under-200cc two-stroke class at the enduro nationals opener.
Both Nield brothers are sponsored by Triumph New Zealand and by Kiwi Rider magazine, with Mitchell supported by Gas Gas New Zealand and Damon supported by Husqvarna New Zealand.
All these riders are next in action at round two in Northland on March11.