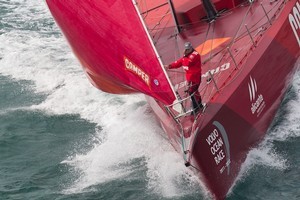 A frustrated Chris Nicholson is questioning a controversial decision by Volvo Ocean Race organisers to split the next leg to Auckland because of fears about rough weather.
Camper skipper Nicholson is already under pressure due to the failure of his crew to win a leg in the race, with Emirates Team NZ chief executive Grant Dalton calling the situation unacceptable.
Although Camper's consistent and reliable racing position sees them second overall behind Telefonica, Dalton has sent Team NZ skippers Rod Davis and Joey Allan to China to oversee the crew. However, the latest in-shore race yesterday ended in more disappointment when Camper battled back to fourth after a mistake put them in last place.
Nicholson had hoped leg four from the Chinese island of Sanya to Auckland would suit his boat due to the expected rough conditions. But Ocean Race organisers have stymied that plan by forcing a delay to racing in the South China Sea. The race fleet of six is due to set sail tonight at 7 o'clock NZ time but they will complete only an in-shore race before returning to Sanya and waiting up to 24 hours for the expected high winds and heavy seas to ease.
There will be a staggered start to the leg proper based on the results of the in-shore race.
Nicholson released a carefully-worded statement describing his disappointment with the decision, calling it a "real shame'', before releasing a stronger response.
"Our strong preference was and remains for Leg 4 to start as intended. This is a fully professional race and ultimately we believe the decision on whether to start or not should be in the hands of the skipper,'' Nicholson said.
"We're professional sailors not professional risk takers and the reality is that the conditions our forecasters are predicting out there are manageable. None of our models are suggesting the 8 to 10 metre waves that I've heard being used to justify this decision.
"We believe there are several different options available for the fleet to deal with the forecast conditions and position themselves within manageable wind and wave conditions. By short tacking up the shoreline we would most likely encounter 25 to 35 knots and 2 to 3 metre seas which this boat is more than capable of dealing with.
"As a team we built and designed a boat for these types of conditions and trained in them off New Zealand last winter knowing that we were likely to encounter them in this race. It is frustrating for all of us that this decision limits our ability to race the boat in the conditions we've prepared for.
"This is a professional around the world race, and as such we need to be set to go to sea in rough conditions.
"All teams in this race have different agendas they're trying to push on this decision but ours is pretty simple and up front - we're well prepared and geared up for the conditions and we want to go sailing.''
Forecasts of winds gusting above 40 knots and waves of eight metres in the South China Sea prompted the decision, according to race chief executive Knut Frostad. "We are doing this because of the weather advice issued by experts both from our own Race HQ in Alicante and the teams' experts.
"They all believe we have conditions which will be dangerous up to 12-18 hours after the leg start, with waves that can break boats if you sail into them.''
Perhaps not surprisingly, Telefonica skipper Iker Martinez supported the decision, but apart from the safety issue it is thought that the organisers are desperate for Auckland to see a competitive finish with all six boats featuring, rather than the shambles previous legs have become.
In stage one from Alicante to Cape Town, Team Sanya, Abu Dhabi Ocean Racing and Puma were all forced to retire because of damage.
While Camper has sailed close to the wind at times, there have been no reports of damage on the boat and although speed is an issue, reliability is not and their trump card on the challenging 5,220 nautical mile home leg has been taken from them.
The decision has sparked furious debate on the official Volvo Ocean Race website, with one respondent, Martin Fuge, calling the race a "farce''.
He added: "If the boats are not strong enough to sail around the world they should not be there. One can see why only six boats entered this race.''

- APNZ