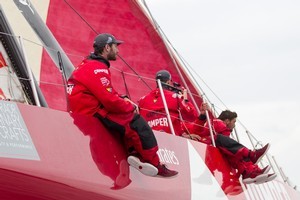 More disappointment accrued for Volvo ocean racer Camper, with Emirates Team New Zealand, late last night with a fourth in the Sanya in-port race - continuing to bleed points to Telefonica who turned in a commanding performance to win yet again.
In a shifty 15-to 20-knot north-easterly, Camper made a strong start but a major tactical miscue in the first windward beat effectively signalled the end of their race and they rounded the first mark in last place. They managed to claw back ground over the remaining legs and pass Groupama and Sanya to secure fourth place, in the process maintaining their second overall position and slightly increasing the points margin over third placed Groupama.
Skipper Chris Nicholson said that, after the work the team had put in over the last week, it was a poor result: "It's a disappointing result for us - there's no hiding that. We've had a good week of training and we thought we would have turned in a much better performance today. The fact is missing that first major right hand shift was a game breaker and things were looking pretty bleak after that.
"We dug deep to fight back up to fourth place and I guess that's a small positive but we have to stop fighting back and start leading from the front of the fleet.
"Now we need to refocus, regroup and get into ocean racing mode to ensure we hit the start of leg 4 to Auckland in 24 hours in the best shape possible. This next leg is a big one for us and the first few days are looking brutal. "
Camper is straight back into action tonight with the start of leg 4 - the more than 5000 nautical mile race to Auckland will get under way on Sunday, at 7pm NZ time. Early forecasts are tipping strong north-easterly winds building to 35 knots offshore accompanied by large seas. Camper picked up four points for today's in-port race to be sitting on a total of 83 points, 18 astray of Telefonica and 10 ahead of Groupama.