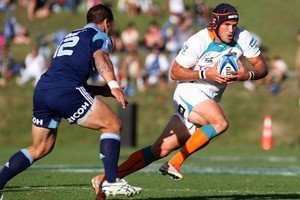 An irresistible force has hit an immovable object, leaving no one entirely sure how the latest Sanzar stoush is going to be resolved.
A detailed proposal outlining how a lopsided Super Rugby competition might work is expected to be lodged shortly by a South African Rugby Union determined to get their way and be granted a sixth team in their conference next year - creating a Super 16 competition.
The problem with their plan is twofold: expansion will create a convoluted and irregular format, as there will be five teams each in the respective New Zealand and Australia conferences and six in South Africa's.
Sanzar's commercial support - broadcast and sponsors - is also built on a conference format with equal teams in each.
Sanzar's future vision is to either expand the existing conferences or to create a new one that will feature five teams drawn from various geographic zones such as America, Asia and Argentina.
None of this logic is yet to deter the South Africans.
Their determination is being fuelled by their slightly premature decision to inform the Port Elizabeth-based Southern Kings that they will be in the competition next year.
The Kings - formerly the Spears - have endured a number of false starts since they were initially formed in 2006.
The Spears were pencilled to play in the 2007 Super 14 but fears grew about their financial stability and they were denied entry and effectively terminated as an entity.
But South African rugby officials and the South African Government have been determined to bring professional rugby to the Eastern Cape and pumped more money back into the region in 2009 to form the Southern Kings.
The intention has always been to eventually get this side into Super Rugby and the Kings made a credible bid to play in the Australian conference last year but lost out to the Melbourne Rebels.
SARU have always wanted to include the Kings as part of an expanded competition rather than at the expense of one of the existing African sides. Whether that can now happen is doubtful.
"The issue with the Southern Kings is not new," says Sanzar chief executive Greg Peters.
"We have open and regular dialogue with the three member countries and this [expansion] is an issue we have considered before. However, the commercial standing of this competition is built on there being an equal number of teams in each conference.
"Expansion like this would mean changing the conference format in this period of the contract with broadcasters. While we can have a conversation about that, we have considered various options around this concept in the past that all proved to be untenable."
Previous submissions by SARU are believed to have proposed a variety of ideas such as the South African conference kicking off early, playing a full round-robin and then eliminating the bottom team before playing teams from New Zealand and Australia. These ideas were flatly rejected in 2010 and will almost certainly be rejected again.
The truth is that a 16-team format won't work and if SARU wants the Kings to play in 2013, then it is going to have to axe one of the current sides.
Acutely aware of this option, the five African sides met last week to discuss their options. Reports claimed they had threatened to boycott the tournament if the threat of one team being axed was carried out, but chief executive of SARU, Jurie Roux, denied that was the case.
"But the franchises have made it plain that the only option to them is the expansion of Vodacom Super Rugby," he said in a statement.
"They also pledged their support for the Kings' inclusion in 2013 as well as for SARU's efforts to persuade Sanzar to include a sixth South African franchise."
How and when this can be resolved is now of some concern. Sanzar's history is turbulent and issues like this have arisen before, threatening to blow the alliance apart only for resolution to be reached and the whole thing to seem needlessly dramatic
This drama, however, is guaranteed to have a casualty.
Whether it is the Kings being denied entry or one of the existing franchises being axed or the entire competition being compromised to allow a sixth team - there isn't going to be a happy ending.