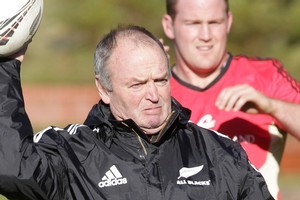 Newly installed High Performance Sport NZ boss Alex Baumann is a big believer in coach-led sporting programmes, so he recruited the biggest coaching name in the country to prove the point.
Graham Henry will work with the country's leading high-performance coaches in the lead-up to the Olympics, it was announced yesterday.
But he will not be at the Olympics in any official capacity.
The World Cup-winner signed a two-year, part-time contract with HPSNZ with the bulk of his work having a long-term focus.
His immediate task, however, will be to fine-tune the Olympic coaches before their big gig in London in July. He will start with the sailing coaches this month.
"It's crucial for coaches to be effective leaders, so hopefully sharing the knowledge gained from my coaching experiences will help New Zealand's coaches provide the leadership ... their athletes need," Henry said.
Baumann, a Canadian with an Olympic gold medal-winning background, said a person of Henry's capability and skills could help coaches in other sports. Henry would play an important role mentoring and fast-tracking promising coaches.
"In a number of sports we're one or two deep and if we lose those good coaches, where are the next ones coming from?
"So there's three aspects. Our longer term approach is to assist coaches to build their capacity.
"The second thing is to build a coach legacy and the third thing is help some coaches prepare so they'll be at their best at the Olympic Games this year."
The delivery of high-performance sport can be generally categorised by three approaches. There are centralised, systems-based programmes, such as those run by China and the old Eastern Bloc countries, there are athlete-driven programmes and there are coach-driven programmes.
Baumann is a vocal proponent of the latter approach. He said a coach cannot "drive" everything, so he prefers the term coach-led.
"The coach is ultimately accountable for results so I would certainly ascribe to that philosophy," he said.
Nobody knows better than Henry the notion that the coach is accountable.
Although he didn't pay the highest price after failure at the 2007 World Cup, Henry knew that the 80 per cent winning record and eye-catching style the All Blacks demonstrated for most of his tenure would have counted for little had they failed to lift the Webb Ellis Cup last year.
Henry is not the first World Cup-winning coach to broaden his sporting palette. Another knight of the realm, Clive Woodward, moved into the Olympic realm after winning the World Cup with England in 2003.
In 2006 he was announced as the British Olympic Association's director of elite performance and at Beijing he acted as deputy chef de mission for the team.