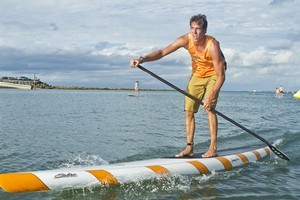 Over 500 people showed up for Race 12 of the Takapuna State beach series on Tuesday night.
A warm still evening provided perfect conditions for all the competitors. A 13-knot Sou'-wester and a low tide suited both swimmers and paddlers.
NZ Olympic windsurfer JP Tobin and Dutchman Dorian van Rijsselberge, current World RSX windsurfing champ, both took part in the stand up paddle 3km event this week. As training preparation for the up and coming World champs, the two men battled it out for first place.
An exciting finish with Van Rijsselberge clinching the win over Tobin by just one second.
New Zealand stand up paddle boarder Troy Huston finished closely behind back in third. Annabel Anderson made it three in a row in the women's event.
An absent Steven Kent gave Jackson Cropp the opportunity to win the 1.5km ocean swim which he capitalised on finishing in 18m 20" Nick Berry came in second followed by Sean Newcombe in third. In the women's division NZ lifesaver Kirtsy Wannan maintained her top spot winning in 18m 43" five seconds ahead of Johanna O'Conner with Brenda Russell back in third.
NZ canoeist Steven Fergusson was another notable absentee this week in the 5km surf ski skip event. Mike walker took out 1st place in 25m 55" with Marty McDowell in second and Garren Cooper in third. In the Womens event Denne Simpson backed up her win from last week coming in 1st with a time of 29m 39".
Nick Sutherland looked in fine form this week in the men's 5km run. Sutherland made this his 7th win of the series winning the race in 16m 53". Tara La Grange won her event with ease as she took control throughout the race finishing in 19m 19".
Results:
Ocean Swim 1000/1500m - Male
1 CROPP, Jackson 18m 20s
2 BERRY, Nick 18m 45s
3 NEWCOMBE, Sean 18m 51s
Ocean Swim 1000/1500m - Female
1 WANNAN, Kirsty 18m 43s
2 O'CONNOR, Johanna 18m 48s
3 RUSSELL, Brenda 18m 52s
Beach Run 5km - Male
1 SUTHERLAND, Nick 16m 53s
2 SCHOFIELD, Grant 16m 59s
3 SELEZNEV, Kostya 17m 20s
Beach Run 5km - Female
1 LA GRANGE, Tara 19m 19s
2 MASON, Grace 19m 52s
3 MCNAIR, Tessa 20m 29s
Surf Ski Paddle 5km - Male
1 WALKER, Mike 25m 57s
2 MCDOWELL, Marty 26m 16s
3 COOPER, Garren 26m 17s
Surf Ski Paddle 5km - Female
1 SIMPSON, Dene 29m 39s
2 WILSON, Tracy 31m 09s
3 HILDEBRANDT, Katja 40m 27s
Stand-Up Paddle 3km - Male
1 RIJSSELBEEGHE, Dorian 17m 46s
2 TOBIN, JP 17m 47s
3 HUSTON, Troy 17m 49s
Stand-Up Paddle 3km - Female
1 ANDERSON, Annabel 18m 33s
2 SMITH, Stacey 20m 16s
3 ALEH, Jo 21m 01s
Board Paddle 3km - Male
1 DONNELL-BROWN, Nico 21m 55s
2 GLANFIELD, Nicholas 25m 01s
Board Paddle 3km - Female
1 BORER, Jacinta 23m 27s
2 SPICE, Korrin 25m 27s
3 POLO, Jessica 26m 30s
Junior Beach Run 2.5km - Male
1 HADDY, Josh 10m 24s
2 ELLIOT, Luke 10m 26s
3 SAXBY, Toby 10m 38s
Junior Beach Run 2.5km - Female
1 HARDEN, Brieanna 10m 02s
2 GOOD, Samantha 10m 53s
3 BURKITT, Sarah 11m 05s
Junior Swim 300m - Male
1 MCPHEAT, Adam 4m 47s
2 ELLIOT, Aidan 4m 53s
3 GRIMWOOD, Will 5m 47s
Junior Swim 300m - Female
1 CROPP, Jacey 3m 55s
2 BROOKE, Elle 4m 23s
3 HARROWER, Lauren 4m 44s
Novice Paddle 3km - Male
1 STEVENS, Andrew 16m 44s
Novice Swim 300m - Male
1 HANNAH, Grant 4m 56s
2 HARDEN, Joshua 5m 04s
Novice Swim 300m - Female
1 CROPP, Trish 5m 25s
2 DALTON, Mackenzie 6m 05s
3 ALLEN, Jacqueline 7m 24s