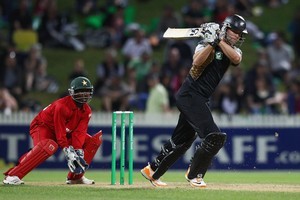 Certain players have the ability to polarise opinion without even trying.
Take James Franklin, whose ability has rarely been in question. It's just that there have been times when he didn't appear to do justice to his talents, which has frustrated his admirers.
Those who want to see the back of him for that reason are more than counter-balanced by those in his corner.
In recent years, he's gone from being a genuine test allrounder to a batsman whose left-arm medium pace can be useful. And most importantly right now, Franklin is relishing life in the world of T20.
His ability to hit a long ball has caught the eyes of decision-makers at teams around the globe. Last season he was the top batsman at the Mumbai Indians in the Indian Premier League, averaging 53.5, with a 137.17 strike rate.
Adelaide Strikers whizzed him across for a game in Australia's Big Bash League last month. He averaged a strong 38.57 in the HRV Cup in an under-performing team.
And he demonstrated his value for New Zealand at Seddon Park on Tuesday night when Zimbabwe gave the hosts a real fright before losing by five wickets with two balls to spare.
Franklin overcame a slowish start to thunder 60 off 37 balls, five of which cleared the boundary.
Those who maintain T20 batting is all about flying from the first ball would have their opinion revised by Franklin's methods in Hamilton.
He had scored three off his first eight deliveries, but kept his head, backing his ability to make up lost ground, and ended with his highest T20 international score.
"Definitely there are some days you feel on from ball one. That wasn't the case here," he said of Tuesday night.
"There's not a lot of time but you still have to go through an assessment phase of the conditions.
"[It's about] giving yourself a chance to get in and go from there. I knew if I could stay in for a certain amount of time I could easily catch up on strike rate, and that proved the case."
Franklin, opening in place of the rested Martin Guptill, shared a 103-run stand with Rob Nicol in 10 overs, which set New Zealand on course, and on the required run rate.
He had gone a couple of weeks without a hit, but his form has been good this season. He leads the Plunket Shield aggregates, scored two centuries for Wellington before Christmas, and is averaging 90 in that competition.
Franklin's 27 tests have been spread over 11 seasons from 2000-01 and he harbours ambitions to get back in that form of the game. There have been 91 ODIs and Hamilton was his 20th T20 international.
It's the latest version of the game which has given the 31-year-old a new slant on cricket life.
He's back to Mumbai in April, where he became something of an unsung hero during their march to the IPL semifinals last year. So the changing face of the game is paying a robust late dividend for Franklin.
"It's just the movement of the game at the moment," Franklin said.
"It certainly gives the over-thirties a little bit of longevity in their career if they do well in this format."
Not that Franklin has taken his eye of the larger picture.
"I still want to stick my hand up and play in all three forms.
"It just so happens at the moment I'm getting my opportunity in the New Zealand side with the T20s, so I've got to make the most of it."