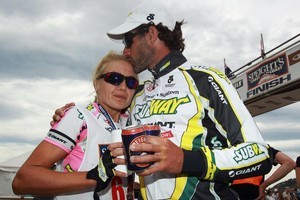 Moments after capturing his fifth Speight's Coast to Coast Longest Day title, multisport legend Richard Ussher could finally spare a thought for wife Elina, still back out on the road.
No married couple had ever completed the husband-wife double. While Keith and Andrea Murray hold the men's and women's race records, they achieved those times in different years. Last year the Usshers narrowly missed out when Elina finished second behind Nelson's Sophie Hart. Obviously, there was unfinished business to be settled.
"To be honest, the only time I thought about it today was at the Gorge Bridge, where my crew told me she was doing well," confessed Richard (35). "We always wish the best for each other when we're racing, but when we're out there, we're totally focused on doing our own thing. You can't split your thoughts too much." "
Elina (35) was also able to uphold her end of the bargain this time, barely challenged after the run to cruise home well clear of her opposition to secure the double honours.
"She was pretty philosophical last year," said Richard. "We went back to the drawing board a little bit. Elina had been paddling quite a tippy boat for a few years and wasn't really comfortable in the water."
This year, the Usshers assembled a more stable, yet still speedy craft that gave her more confidence in her kayak and enabled her to put some 20 minutes on ailing Cantabrian Fleur Pawsey on that leg. But, with the cancellation of the annual Abu Dhabi Adventure Challenge in December, they were also able to concentrate totally on this particular challenge.
For his part, Richard Ussher was relatively unpressed in his title defence, clocking 11hr 33m 24s and finishing almost 19 minutes ahead of Wanaka lifeguard Dougal Allan.
Four riders quickly broke away at the front of the initial 55km cycle leg from Kumara to Deception - Ussher found willing company in Allan, Aussie farmer Braden Currie and Jeremy McKenzie of Blenheim.
As they charged into the mountain run, Currie seemed determined to force the issue and opened a small margin over his pursuers. Lurking a few minutes back came two-day titleholder James Coubrough and his formidable reputation as a runner. Sure enough, Coubrough made up ground on foot, hauling in all but Currie before they arrived at Klondyke Corner. Ussher was next, only three minutes off the lead, but their early rivals had fallen away.
As it has often done previously, the Waimakariri River wielded its influence on proceedings. Halfway through, the top three were re-arranged as Ussher's experience saw him mow down his competition.
Once Ussher hit the final bike, the title was as good as his, but the fun was only just beginning behind him. Seven minutes out of the top three coming out of the water, Allan suddenly found another gear and began to make inroads on Currie and Coubrough.
He passed them on the ride into Christchurch but had to settle for his third consecutive runner-up finish.
"I thought the top three was out of the question, so I got on the bike and thought I'd ride I my own little world," said Allan. "Before I knew it, I was pulling in some good time, got more optimistic and managed to get up there." Currie, who had lost ground to Coubrough on the river, moved past again in the last kilometres for third.