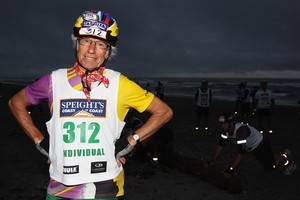 Twenty-nine years on, Mike Ward insists this is his last Speight's Coast to Coast - but he's said that before.
"I never intended doing the second one," reflects the event's most experienced competitor, a finisher in all but one of the previous 29 editions of this 243km multisport challenge across the South Island.
When race organiser Robin Judkins began assembling the field for his 30th Coast to Coast, he invited as many of the 79 inaugural two-day contestants and some 500 previous winners as he could track down. The party just wouldn't be complete without Ward (69).
"I did the first one and then a couple of weeks out from the second, a couple of guys turned up for a running race in Nelson with a kayak on the roof and bikes on the back of their car," he recalls of his early involvement. "So I phoned up my nephew and asked if he could be my crew. After that, I just kept turning up."
Judkins credits Ward with saving the "Longest Day" one-day event even before it began in 1987.
"I had 32 people interested in doing it," recalls Judkins. "I was dead worried that they'd kill themselves, so I tried to cancel it."
He phoned Ward and tried to talk him out of competing: "Mike said he was going to come last and if he wasn't worried about the risk, then why should I be."
Ward, an artist, Nelson city councillor and former MP, remembers it slightly differently. "I only did it by mistake," he says. "I thought I was doing the two days but filled out the wrong entry form. When I realised what I had done, I decided to go ahead with it.
"Robin rang me and told me he was going to call it off, but I told him there would be some pissed-off guys if he did and asked what the others had said. I was the first one he had rung."
Ward's love affair with the Coast to Coast has helped inspire other parts of his life.
"The buzz at the finish has kept me coming back," he reflects. "There's a confidence and contentment that comes out of it, and I feel I can do anything after doing this thing. I know afterwards I'll feel bloody brilliant. I'll go back home and take on some big projects that are really ambitious - I'll make some bloody lovely stuff and the politics will have a little bit more purpose."
Ward's unbroken run at the event came to an abrupt halt only last year, when he broke ribs in a bike accident and had to withdraw before the start.
Standing on Kumara Beach start line for what may be his last time, Ward notices the changes from his first visit. There are more people, obviously, and the equipment is far more sophisticated.
"There's a lot more lycra," he laughs. "Back then, I had one of those shearer's singlets and my bicycle helmet was a hard shell that I still wore as a kayaking helmet a couple of years ago."
There are some familiar faces. Judkins has also lured back two other "originals" - winner Joe Sherriff, now 60, entered the Longest Day, while Palmerston North doctor Hans Stegehuis (59) lined up alongside 19-year-old son Timothy over two days.
"As you get old, your strength goes, your balance goes and your speed goes," says Ward. "I know by Sunday morning, I'll be saying this wasn't so bad and I can do it again, but I also know the amount of effort it takes to get here."
It's hard to imagine the Coast to Coast without Mike Ward. See you next year.