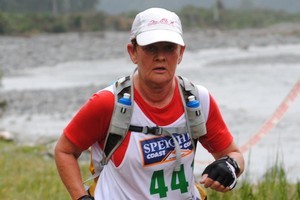 One day, Lyndsay Gough woke up and decided to join the "inhuman" in doing the impossible.
Yesterday, she embraced the impossible as she became the oldest woman to complete the iconic 243km event since the 60-plus division was created in 2007.
Actually, as the oldest female entered in this year's South Island multisport crossing, Gough (60) was also the only contestant in the vintage women's two-day individual category.
"As long as I finish," she warned beforehand and with good reason. Her record in three previous attempts had been spotty and the body hadn't exactly co-operated with her relatively late entry into the multisport culture seven years ago.
"I had no athletic background whatsoever," confessed Gough. "I rode horses and I sailed, but I suppose I've always been reasonably strong from living on farms and tramping. I always had stamina and endurance.
"One morning, I woke up and decided to do the impossible. We were living in Darfield, right near the Coast to Coast course, so I'd seen these people going past every year and thought they were inhuman.
I had a go at learning to kayak, I started trying to run and got on a bike."
Right from the start, her body protested at the thought of running long distances.
Injury meant her first attempt at Coast to Coast was as a cyclist/paddler in a team. In 2006, she knocked off the individual two-day journey in a time (17 hours 35 minutes 49 seconds) that would have won the classic women's age group (50-59) if it had existed.
Race organiser Robin Judkins introduced older divisions into the results the following year, but Gough couldn't repeat her previous performance and failed to finish.
However, Gough's mere presence shows how far the race has come in 30 years. When the Coast to Coast first appeared on the sporting landscape in 1983, the world wasn't convinced the fairer sex could handle endurance events.
Sixteen years after Katerine Switzer first finished the Boston Marathon, women still hadn't contested that distance at the Olympics. That finally occurred the following year in Los Angeles.
Nelsonian Stella Sweney was the first woman home in the inaugural Coast to Coast. She defended her title 12 months later and took out the first "Longest Day" in 1987.
"I wasn't too worried that first year," reflects Judkins.
"It was over two days, we only had half a dozen women at the most in teams and individuals, but I'd always had women in my events. It wasn't until we cracked into the one-day that I struggled to get women to enter.
"I had one in that first one-dayer and it was very slow to build from there. In those early days, it was always hard to get into the race - the waiting list was often as big as the field itself - but I made sure every woman got in. It was the only way I could build the number of women competing.
"Now it's 25 per cent, which is bloody good, and that's obviously bigger in some sections of the race than others. There aren't so many in the one-day individual, but a lot of teams."
While Judkins actively discourages entries younger than 18 ("I just don't feel comfortable about putting that much pressure on them at that age") he's brought in a school teams event.
Among the youngest competitors this year was the Rangiora High School girls combo of Georgie Martin and Ayla Wilson-Bairds, both 16, and hopefully they'll progress to the individual ranks as their passion is kindled.
Gough, who turned 60 only three weeks ago, was conscious of the part she plays in the Coast to Coast's legacy: "I do notice more and more women doing these things," she said. "While older women are still very much in the minority compared to 50-70-year-old men, we're kind of catching up. I would've expected some more in my age group, but they are coming through."
She also hopes to line up next year's Challenge Wanaka Ironman.
"Injury is still my biggest weakness," she lamented. "I have a very poor running technique and have had to work on it really, really hard. I also tend to fall off bikes a bit."