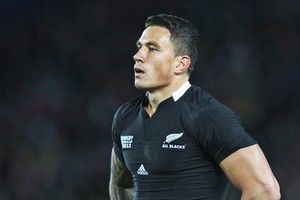 A major new endorsement with Powerade, a million dollar boxing sideline and an increasing love of the 15-man code are the pillars on which Sonny Bill Williams' rugby career currently sit.
He could add a global sponsorship with adidas to the mix and effectively be looking at pulling in about $2 million a year while contracted to the New Zealand Rugby Union.
It's a healthy package - maybe even making him the highest earning player in the country - and yet there is little confidence Williams will re-commit to rugby later this year.
He has money and love, plenty of love from his employer ... but still the rumours persist that Williams will be on his way back to Sydney and the NRL in 2013.
The Powerade contract is part of the struggle to keep him. The All Blacks already have a deal with Coca Cola (who own Powerade) which stipulates that at least three All Blacks have to be seen in the imagery used in the marketing. However, the deal with Williams is with he alone and has been done specially.
The love part is still important. He's been shown more than most - to the extent there has been a constant jealous murmur that the NZRU have been a little too accommodating. The courting of Williams when he was at Toulon was public and unashamed.
The driver back then was almost exclusively Williams' athletic potential. In June 2010, when Williams agreed to play in New Zealand, he was an unknown quantity.
His physicality, basic skills and understanding of defensive and attacking systems were in place but no one could be sure whether he was going to be a second five, wing or blindside.
The only certainty back then was that with top quality coaching and game time in the world's toughest competition, Williams could emerge as a rugby colossus - a figure as dominating and destructive as Jonah Lomu. It was that vision that persuaded the NZRU to agree to one-year contracts. They were desperate to lock in the likes of Dan Carter and Richie McCaw for four years and they let Williams commit for just one.
Most players are advised against off-field pursuits such as skiing or skateboarding for fear they will be injured. Williams can have three professional boxing bouts a season. For those, he is believed to coin close to $400,000 a time, pay TV receipts permitting.
When negotiations hit an impasse last year over a sponsorship offer from a drinks brand in competition to official All Black sponsor Coca-Cola, the NZRU helped facilitate a special deal that did much to appease team Williams.
Coca-Cola's individual arrangement with Williams means he is the face of Powerade - and the NZRU couldn't be happier.
NZRU chief executive Steve Tew says: "When we started talks with Sonny in 2010, they were driven by his special athletic capabilities. He looks like he's got a future in boxing and he was a part of the All Black squad that won the World Cup. There is little doubt either that he has public appeal that reaches different segments of our market."
The World Cup brought a commercial awakening. Suddenly stadiums were full and the NZRU is conscious that if they are to stay that way, the experience has to be worthwhile.
There also has to be a touch of glamour, a sense that the sport remains loyal to its core principles of teamwork and togetherness but does not stifle those who carry a higher profile.
Williams is marketing gold - an athlete in whom almost everyone is interested. For some, it is raw adulation for his ability to cross disciplines effortlessly. His rugby has at times been spell-binding - freakishly good and compellingly different. Others have a sense of outrage at the naked commercialism and self-promotion. Those who describe themselves as traditionalists find Williams and his entourage easy villains to berate.
For Tew and his team, it is of little consequence whether the haters outweigh the admirers. Williams boosts the profile of the game and keeps the money coming in.
He increases the depth of the All Black squad and, maybe most importantly, he creates thousands of little wannabe Sonny Bills.
Ideally the NZRU would rather not have to negotiate with Williams every year. A better all-round scenario would be to persuade him to sign a two or three-year deal, but Tew accepts that is unlikely and that they can't force the issue. "He [Williams] knows what he wants to achieve and our negotiations last year were relatively short," says Tew. "The negotiations didn't drag on, it was just Sonny took some time to make a decision."
It is probable that it will be no different this year, except the NZRU are less confident they will get the outcome they are after.