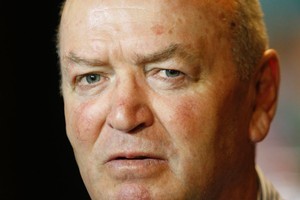 Henry for hire. The sign is up and the inquiries have also started for Sir Graham Henry as he branches out into the next sphere of his celebrated rugby coaching career.
While Henry cut his international coaching ties after the All Blacks' 8-7 World Cup triumph, he did not want to sever his working connections with the sport.
So he has agreed to a new deal with the NZRU to be available for three months a year to assist any Super 15 or ITM Cup coaches. It is a relaxed arrangement with Henry ready to respond to any inquiries when he is available.
"If there is a demand then I will help out," Henry said yesterday after his Halberg Awards triumph.
"I will be sharing ideas, looking at trends, discussing ideas in the game. I will watch things like the Six Nations rugby to see what trends are occurring in that tournament and where the game is going in the European Cup and Super 15.
"Those are some of the things I did not get as much time to do when I was with the All Blacks."
Henry said his main focus would be with the coaches and staff below the All Blacks but he was sure if they wanted his input about some issues, he would have some thoughts.
Henry has spent time with the Blues and next week will link up with the Hurricanes for several days.
"Both those groups asked me if I could come down and run an eye over a few things and that's the sort of way I see this arrangement working. I'm on call, there is no timetable.
"For instance, at some stage when there is a gap I will get together with the provincial coaches from Northland, North Harbour and Auckland to talk through how they see things for the provincial championship this year."
Wynne Gray