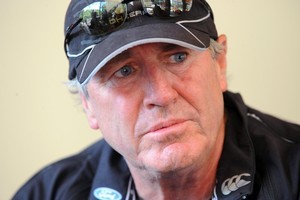 Thirty or so years ago a young student at Gisborne Boys' High School spent much of his time giving throwdowns in the nets to his science teacher.
Shortly after, the relief teacher, whose mind was not primarily on chemistry equations or imparting knowledge on the principles of physics, made his New Zealand debut at the Basin Reserve in 1978, and celebrated his country's first test win in 48 years of trying against England.
David White remembers those days hurling deliveries at John Wright - "hundreds of them", he quipped.
Now, a few days into his job as New Zealand Cricket's chief executive, the relationship is rather different with national coach Wright.
Wright's contract is up after the tour to the West Indies in the middle of the year. Ensuring his old teacher is not lost to the job is a priority item in White's in-tray.
"I've had a couple of good meetings with John," White, 50, said. "He's doing particularly well at the moment, and the squad is settled.
There's young talent coming through and a really good feeling about the squad. We'd like to get that resolved sooner rather than later, for sure."
White was formerly Wellington and Hurricanes rugby boss, then chief executive for Auckland and the Blues before heading overseas to a job at Bristol rugby club.
More recently, he was involved in the official travel and hospitality programme for Rugby World Cup 2011.
His own career, as a top order batsman for Northern Districts, ran to 106 first-class games, with seven centuries including 209 against Central Districts in Hamilton 26 years ago. He played two tests and three ODIs, all in Pakistan in 1990.
White puts financial affairs at the top of his order of business, and there's no surprise in that.
"The biggest challenges are always financial," he said. "Securing sponsorship, getting commercial revenue is a key focus for us. We have two broadcasting contracts to negotiate in the next few months. They are high on our agenda.
"We have a lot of cricket until the World Cup [in 2015]. It's a very condensed programme and what is going to be critical is not only making sure we plan very carefully to ensure the squad and management teams are at their optimum for the cup. And linked to that is ensuring we have coaches and support staff in place ready for that."
White can see parallels in the administration of rugby and cricket.
" We are a small, narrow market in New Zealand and getting revenue is critical. You've got a national cricket team that drives most of the broadcasting revenue, just like rugby.
"The big difference is the markets. Cricket has traditional, commercial partners but the big difference is Asia.
"That in itself presents incredible opportunities. The Asian market is just massive and it's important New Zealand Cricket positions itself well to maximise that opportunity."
And as for the intriguing issue of franchising of the major associations, White is cautious.
"The interesting challenge is always wanting to introduce external money, getting investors involved, which is fantastic and stimulating for the game," White said. "But [it's also about] maintaining a degree of control over your product. The key is to come up with a product that excites external investors."
NZC are expecting a feasibility report in about two months.