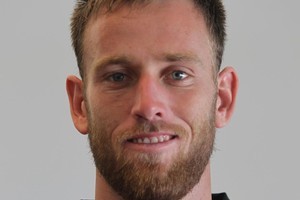 New Zealand face an near-impossible task to advance in their Davis Cup tie against Uzbekistan in Tauranga after both today's singles rubbers were won by the visitors.
Uzbekistan drew first blood in the Asia Oceania group I tie, with world No 58 Denis Istomin making speedy work of outgunned Kiwi Rubin Statham, hardly breaking a sweat with a 6-1 6-1 6-3 victory that lasted just 84 minutes.
The gulf in class was obvious from the opening set when Istomin broke Statham three times, with the Kiwi, ranked a lowly 554, powerless to stop the rampant Uzbeki.
He rallied briefly in the third set to get it to 3-3 before Istomin turned it up a gear to take the last three games of the set and the rubber.
In the second rubber at Tauranga's TECT Arena, top-ranked Kiwi Michael Venus was strangely out of sorts, taking the first set 6-3 before folding to lose the next three 6-1 6-2 6-2 to Farrukh Dustov, capping one of the more disappointing days in New Zealand's recent Davis Cup history.
The big serving Venus played a big first set, racing to a 4-0 lead, but Dustov, at 247 ranked more than 150 places above his rival, pulled out the boomers during the rest of the match, dictating terms as the Kiwi's game quickly went AWOL.
Venus needs to re-gather his game fast as he and Dan King-Turner play Dustov and Istomin in tomorrow's doubles, with anything other than a win making Sunday's reverse singles matches dead rubbers.
At times it was like boy playing man between Statham and Istomin who, if he wasn't firing down aces (eight in total), was standing at the baseline swatting winners down either line. Statham didn't help his cause with a litany of unforced errors, a theme Venus also picked up on as his final three sets sank faster than a container ship rammed hard on a reef.
Istomin said it was his best Davis Cup singles match since his debut in 2005, with the relocatable Rebound Ace surface indoors suiting his powerful baseline game.
"I was a little bit lucky in the beginning, I broke him (in the second game of the first set) and make no mistake.
An early break is very important because you never know what is happening; if maybe he starts fighting then it is a different story."
Statham took seven games off Istomin at an ATP Challenger event in Tasmania last week bit was severely outgunned in front of a disappointingly small crowd of barely 500 at the city's new $42 million complex.
Those who did front were treated to some high quality shotmaking from Istomin, who has been 39 in the world, including an audacious between-the-legs effort to win the fourth game in the second set.
Istomin said it was the first time in plenty of attempts he'd won a point off the high risk forehand that could prove problematic if it was an inch or two out either side.
Statham, a counterpuncher who was given no openings, was disappointed he couldn't add to his 17 Davis Cup wins but saluted his rival's undoubted quality.
"Hitting winners between his legs from behind the baseline you don't see tennis like that at any level the way he played at times."

- APNZ