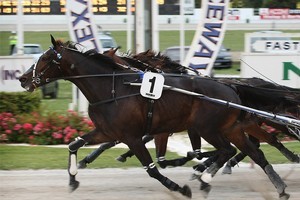 It is what you don't know about I Can Doosit that makes him a champion.
What everybody in racing knows is the obvious stuff, like that on Saturday night I Can Doosit became a rare dual winner of the Interdominion Trotting Final, continuing an almost faultless season.
Add to that last year's Rowe Cup win, a Harness Jewels and 23 wins from just 40 starts and the Kiwi trotter is nearing $850,000 in stakes, suggesting that by the end of this season he will be the third millionaire trotter in New Zealand history.
And that at the tender age for a trotter of 6, with maybe three more years dominating at the highest level.
That is the easily digestible stuff, the things about I Can Doosit you could find out in two minutes on the internet.
What you don't know is that the great horse has to overcome himself every time he wins a major race, the same legs that have carried him to glory being his own worst enemy.
I Can Doosit clips his legs when he trots, meaning that when he trots at full speed he all but trips himself up.
At its worst it causes him to cut himself and leave bruises and swelling.
It is not painful, with horses spurred on the by same adrenaline human athletes feel under similar pressures.
A lot of horses do it, especially trotters, but not often the best ones. It is simply too tough to overcome.
That takes the ability to run through the pain barrier, and in the case of I Can Doosit, the willingness to trot even when your heart is arguing with your mind.
Occasionally the mind wins and I Can Doosit will gallop or trot roughly. These are about the only times he gets beaten any more.
But usually the heart wins, and that coupled with I Can Doosit's strength pummels his opponents into submission.
In Saturday night's A$250,000 ($322,000) Interdominion Final at Melton, I Can Doosit didn't need to be especially special as he secured a miracle trail behind the rabbit-like The Fiery Ginga.
That meant a saloon passage to the passing lane and an easy Interdominion defence. But there was still a moment.
One moment at the entry to the passing lane when I Can Doosit's competitive spirit saw him hit the afterburner a little too quickly and he took one awkward stride, clipping himself again.
But the heart won, he balanced up and surged clear of Vulcan and Sovereignty for an all-New Zealand trifecta.
Afterwards trainer-driver Mark Purdon was again in awe of the Auckland-owned trotter.
"He is so brave," said Purdon shaking his head. If people knew how hard he sometimes knocks himself they would be stunned but he wants to be out there, he wants to win. I have been lucky enough to train some great trotters like Pride Of Petite and on ability and record alone he is as good as them.
"But to think he does it while he has that fault in his gait he has to overcome, it really is remarkable. He is an amazing horse."
Aucklanders will be the next to see that beautiful heart as I Can Doosit will return home to be aimed at the new Trans Tasman Trot a week before the Rowe Cup in May.
A victory in either would all but get him to the $1 million mark.
But as good as he is, Purdon has no plans to campaign I Can Doosit overseas, where his gait deficiency would be more savagely exposed. Which is a blessing for Kiwis who love a great horse and in particular a champion trotter.
Because coming to a race track near you might be a modern-day racing wonder. And if you look closely enough you just might see a hero in harness.
DOING IT
* Kiwi horses dominate the group one races at Melton.
* I Can Doosit defends his Interdominion Trot title.
* Choise Achiever heads home a New Zealand quinella in the A$425,000 Hunter Cup.
* The Hunter win was remarkably the sixth for driver Anthony Butt.