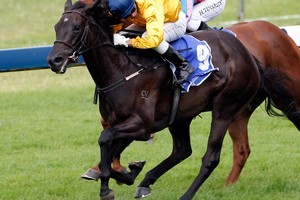 Roger James has finally revealed his thinking on immediate plans for Silent Achiever, stunning victor over raging favourite Ocean Park in Saturday's $70,000 HS Dyke Waikato Guineas.
And it has little to do with Saturday's victory.
The options are the Derby at Ellerslie next month or the Vinery Stakes in Sydney a few weeks later.
Most people would be thinking the Derby would be priority No 1, but not so.
"Clearly the Derby is an important race, but the Sydney race is a very attractive option.
"The way I'm thinking is that the decision to be made is whether or not the Derby would hamper our plans for Sydney," said James yesterday.
That is not a decision James intends rushing into.
"The late entry for the Derby is not until a week before so there is little point making up our minds before then.
"We'll be leaving it as late as possible."
Silent Achiever burst on to the scene from virtual obscurity and has now beaten all comers.
The O'Reilly filly has a peculiar habit of hitting a flat spot around the 600m in her races.
James McDonald was having his first ride on the filly on Saturday and must have got a big fright when she produced nothing under his vigorous riding at the 500m.
At that point it was Ocean Park $1.01 and Silent Achiever $15.
But 150m into the home straight after Ocean Park and Chad Ormsby had burst through to lead close to the inside, Silent Achiever became ominous in his slipstream.
Silent Achiever not only burst past the hot favourite, she had the cheek to prick her ears 75m from the finish as McDonald started easing her up.
McDonald was greatly impressed with what he felt.
It needs saying that Ocean Park did not appear to explode off the Te Rapa surface the same way he did off Ellerslie and more recently Trentham.
The Te Rapa strip, marvellous though it is, does not suit every horse.
"There was a bit of that," said Ormsby.
"And he pulled a bit in the back straight."
A horse's first middle distance run - around two bends rather than one - is often a tough assignment.
"He got into the back straight and thought it was the finishing straight and that's what got him pulling," said Ormsby.
Trainer Gary Hennessy said he would take Ocean Park straight into the Derby without another race.
"I might see if I can take him up to Ellerslie to work him, but he won't race."
Shuka just topped off Guess What for third.