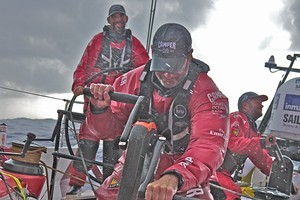 Camper's chances of claiming victory on the third leg of the Volvo Ocean Race have passed and the crew are now looking forward to a few beers, burgers and a hot shower after an exhausting race to China.
Telefonica crossed the finish line at Sanya, China, today to become the first boat since Sir Peter Blake's Steinlager 2 in 1989-90 to win the first three legs of the round-the-world race. Groupama looked set to finish second later today, with only 20 miles to the finish, with Camper another 28 miles behind in third.
Telefonica have extended their lead in the overall race and the Camper crew will need to find something special in the final six legs to Galway, Ireland, to overhaul Telefonica. The next leg is to Auckland, starting on February 19.
For now, however, Camper skipper Chris Nicholson said they had their eyes on something else. After an exhausting last few days doing hundreds of short tacks up the Vietnamese coastline and running a gauntlet of sandbanks, wrecks, fishing boats and nets, the crew are worn out.
"All the guys are absolutely physically and mentally exhausted," Nicholson said. "The last few days getting up the Vietnam coast have been pretty tough on everyone and we're just glad to have got the boat out of there in one piece.
"We've been pushing ourselves and the boat to the very limit in an effort to pull in the boats out front.
"We just can't wait to cross the line, get ashore and have some cold beers, burgers and a hot shower - it's going to be great.
"After a good night's sleep, we've then got plenty of things to review, debrief on and see where we could do better but that's for tomorrow."
Thousands of people lined the dock and packed the race village to welcome Telefonica into Sanya, the first stopover in the Chinese port in the race's 38-year history.
Telefonica had their challenges in the leg, especially as they damaged their headsail hours after starting the leg and were in last, but read the conditions well and relied on good boat speed. They took a more northerly course on the drag race east across the Bay of Bengal to snatch the led and then held off Groupama, who at one point were within one mile of the leaders, to win.
"That was a toughie," navigator Andrew Cape said. "I certainly won't get used to it to winning, it won't last forever. We're taking it one leg at a time. It's a good win, we're very happy.
"Right from the top of Sumatra, it's been really difficult. There were so many hazards and you can't take your eye off the ball for one second because that's when bad things happen.
"It was a very taxing leg, a lot harder than I expected. Everyone is ecstatic. We're all happy to be here and very relieved."

- APNZ