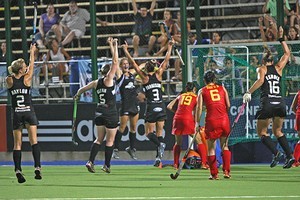 It's been a long time coming but was well worth the wait.
In the most dramatic way possible, New Zealand won their first game at the Champions Trophy when they beat China 3-2 today with a golden goal with time up in the first period of extra-time.
Stacey Michelsen got the final touch, forcing the ball home after several other players had a swing.
New Zealand had trailed 2-0 with just 10 minutes left in the match and showed great spirit to come back, with striker Catherine Finlayson scoring goals in the 60th and 67th minute to send the match into extra time.
"It's a great feeling," said Finlayson, "more of a relief than anything. It wasn't always pretty but we never stopped trying."
They also scored their own slice of history, becoming the first team to win a Champions Trophy game from 2-0 down since 2002.
It was also only the second time that a penalty corner had been converted in extra-time in Champions Trophy history, New Zealand finally making one count after 17 previous failures.
Earlier the Black Sticks had been lucky to still be in the game, with only some brilliance from goalkeeper Bianca Russell, combined with some wasteful finishing from the Chinese, keeping the score to 1-0 at halftime.
The result means that New Zealand will finish no lower than sixth, and have their final match (playoff for fifth place) against Japan on Monday.
Coach Mark Hager was a picture of relief after the match.
"It was an very important victory," said Hager." Though we were very loose in the first half, their effort to come back in the second was something special. We got belief after the goal."
In the early evening conditions the game was frenetic from the start, end-to-end as players thrived in the sightly cooler conditions.
The first half followed a similar pattern to previous matches for New Zealand at the Champions Trophy. The Black Sticks had their share of field position, without managing to carve out clear-cut chances and the opportunities they did have were not taken.
The Black Sticks also had five penalty corners in the first half; at one stage four in succession but the set piece is not functioning well and they rarely made good contact.
The Chinese had the better opportunities and only the efforts of Bianca Russell in goal kept the scoreline down to one in the first half.
She made a brilliant save from a penalty corner in the 10th minute, and the Chinese were inches away from scoring in the 21st minute while they hit the post from a penalty corner.
China finally made a chance count three minutes later and extended their lead in the 41st minute before New Zealand's dramatic comeback.
* Herald on Sunday writer Michael Burgess travelled to Argentina with assistance from Hockey NZ.
-APNZ