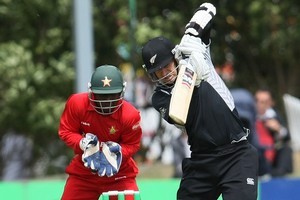 The biggest challenge for our cricket administration is to get a better standard of opposition for the national side. We seem to be playing an awful lot of cricket against Zimbabwe which is a bit of a joke.
No disrespect, but there is a lot at stake here, and we need opposition that will not only help us develop a terrific side but also excite the public.
Let's be honest - the public doesn't really care about the current tour and most people would have trouble naming anyone in the Zimbabwe team.
The only slight chance I'd give Zimbabwe is bowling first in lottery-type situations on poor wickets.
This isn't the best preparation for what shapes up as a very interesting series against South Africa. The administrations must develop the clout to persuade the ICC to give us a better standard of opposition.
On a more positive note, I'm encouraged by Tarun Nethula, the legspinner from Central Districts who puts a lot of work on the ball.
Legspinners are a great weapon, but have been few and far between here. New Zealand dabbled with Brooke Walker 10 years ago, but while he had good variation and control, he just didn't spin the ball enough.
My main experience with leggies was facing Shane Warne and it seems to me they thrive on a lot of bowling in matches, so are best suited to the test arena where they really get going around the 10 or 15-over mark. Warne never had the same control and rhythm in the one-day games.
In ODIs, leg spinners seem to bowl flatter and remove variations like the googly from their repertoire because they don't want to open up both sides of the wickets. And being limited to 10 overs means they don't get the long spells to find their rhythm.
Nethula is sure to get a one-day chance against Zimbabwe and it will be very interesting to see how he goes, but I'm most looking forward to the day he joins the test attack.
When the conditions are right, Nethula will give New Zealand a new opportunity to play a second spinner alongside Daniel Vettori and his presence will give more balance to our attacking options.
A legspinner on the fifth day of a test is an exciting prospect. An average legspinner equals a very good offspinner.
Ironically, New Zealand has moved towards a more seamer-dominated attack. Given our conditions, Nethula's best chances may come on overseas tours.