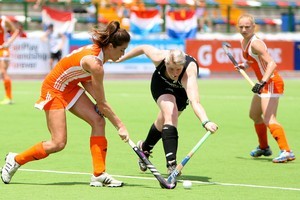 New Zealand is out of contention for the Champions Trophy, falling 3-0 to defending champions Holland early this morning.
While it was a significantly improved effort and at times featured some of their best hockey of the tournament, they failed to make the most of the few opportunities they had against the clinical Dutch.
The result means that New Zealand will enter the playoffs for fifth to eighth place and will play either Argentina or China on Saturday.
It was an unfortunate exit. In incredibly hot conditions. New Zealand never stopped trying but failed to notch the goal that would have given them invaluable belief against an opponent they have never beaten in 18 official matches.
Gradually they were wore down, both by physical approach of the Dutch and their undoubtable skills. The Netherlands led 2-0 at halftime and killed the game off with their third (from Kim Lammers) with 13 minutes on the clock.
In the first half New Zealand defended well as a unit, closed down well in midfield and were more patient in possession.
Chances were always going to be at a premium; Katie Glynn had a great opportunity after two minutes, but just failed to make contact five metres out from a pinpoint Krystal Forgesson cross.
The Dutch dominated the half but New Zealand's confidence grew as the half wore on. They did well to defuse two Dutch penalty corners and goalkeeper Sally Rutherford made a great save from Kim Lammers midway through the half.
After fighting so hard - and well - the Black Sticks then conceded a soft goal under the circumstances. In the 27th minute young defender Rhiannon Dennison failed to stay goal side of Kim Lammers, and the Dutch striker coolly converted Kitty Van Male's cross. The 18-year-old Dennison, who had earlier managed a great block of a Dutch penalty corner, will learn from the experience but it was an unfortunate mistake in a Champions Trophy quarter final.
The team were visibly deflated but bounced back to force a penalty corner right on halftime but Clarissa Eshuis dragged her low attempt just wide.
Throughout the match the Dutch certainly made their presence felt; slightly bigger than their Kiwi opposites, they often hustled their Kiwi counterparts off the ball both legally and illegally, with the umpires often taking a lenient view.
Early in the second half the Netherlands forced successive penalty corners; Rutherford dived well to save the first, but could do nothing about the second, fired unerringly into the bottam left hand corner by penalty king Maartje Paumen in the sixth minute.
From then on the Black Sticks seemed to find their mojo, as the do or die sensation sunk in, Catherine Finlayson was inches away from scoring, miss-hitting a bouncing ball from two metres out directly in front of goal. Stacey Michelsen then forced a good save from Joyce Sombroek in the Dutch goal, followed by a Anita Punt backhand. A few minutes later, after a Dutch goal was harshly ruled out for dangerous play, Charlotte Harrison missed a difficult bouncing ball at the far post, with the goal at her mercy.
Netherlands 3
New Zealand 0
Herald on Sunday writer Michael Burgess travelled to Argentina with assistance from Hockey NZ.