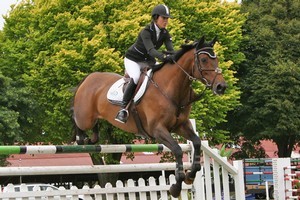 Katie McVean may be on the cusp of securing her third showjumping World Cup series but there will still be plenty of competition for final honours in Tauranga this week at the New Zealand World Cup final show.
It was touch and go as to whether McVean would even start in the final two rounds, potentially scuppering her chances of securing a hat-trick of wins after success in the series in 2009-2010 and 2010-2011. She also finished sixth equal at the world final in Germany last year.
Last week the former Olympian and world championships representative fractured a vertebrae in her lower back when she was bowled by one of her young horses but has since received the green light from her doctor to compete.
"I'm so excited to be allowed to ride again," said McVean, who will compete aboard Dunstan Daffodil. "I would love to be at the world final again and I think Daffodil is just continuing to improve all the time.
"The fracture means I can't sit in the saddle how I normally do, and it aches."
She's got a commanding lead on the New Zealand World Cup leaderboard and goes into the last two legs of the New Zealand league with a 13-point buffer on her nearest rival Maurice Beatson, who was a teammate at the 2010 world championships.
But Beatson won't be competing this week, opting to save his top horse, 17-year-old Mr Gollywog, for the coming NZ Horse of the Year Show, and having to rest eight-year-old Schimmel Warrior, who is a little sore.
Tess Williams is third and will be looking to do well on her big grey Alltech Craighaven Nitro.
There are 10 combinations entered for the final two rounds - the first a speed class late on Thursday afternoon at the Mills Reef Winery and the final on Sunday at the Tauranga Racecourse.
Bernard Denton and Suzuki have a good track record in World Cup New Zealand finals, having won it in 2009 and placing second last year. Denton is on 21 points.
Also entered are Olympian and world championships representative Samantha McIntosh aboard Witheze, former series winner Simon Wilson on Swinger, Lisa Coupe on her two mounts My Ocean Wave and Bates Amaretto MVNZ, young gun Bridget Hansen who with Nicalette NZPH is really showing the benefit of her Australian campaign, Paula Mussen on Meersbrook Flintstone and Sam Peters on Likeable NZPH.
Missing from the lineup are a run of top showjumpers who have been sold offshore including Phillip Steiner's Annandale Online NZPH and Oliver Edgecombe's Billistic, who have both headed to the US. Danielle Maurer's Blue Rinse is now in Australia.
Picking league winners is a tricky affair, as riders with two mounts must nominate the right horse to get the points, which are worked out on the number of starters. Final tallies are only from their best four outings of the league.
The world final is in s-Hertogenbosch, in Holland, in April.
The Tauranga show has attracted nearly 500 combinations from all over the country, well up on recent years. It starts with today's (Thursday's) World Cup speed class and runs through until Sunday.
World Cup league Standings (best four rounds): Katie McVean (Mystery Creek) 52 points, Maurice Beatson (Dannevirke) 39, Tess Williams (Gisborne) 28, Phillip Steiner (Tauranga) 25, Simon Wilson (Waipukurau) 22, Bernard Denton (Gisborne) 21, Ross Smith (Canterbury) 15, Lisa Coupe (Hawke's Bay) 11, Samantha McIntosh (Cambridge) 10.

- APNZ