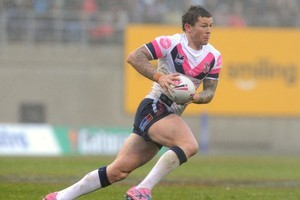 Star Cronulla recruit Todd Carney insists his troubled past is behind him and he is on track to make a success of the upcoming NRL season.
Carney is set to make his first appearance for the Sharks in Friday night's trial against Manly at Toyota Stadium in Sydney. He will debut at halfback alongside Wade Graham.
The 25-year-old is on his last chance as an NRL player, having left Canberra and the Sydney Roosters in disgrace after a long line of misdemeanours.
But the talented playmaker says he's only looking forward as he attempts to help a new-look Sharks outfit deliver on their pre-season potential.
Carney spoke to the media for the first time as a Cronulla player yesterday, saying he did not want any distractions during the pre-season.
"I just wanted to get settled in at Cronulla, get some training done, leave all that stuff behind me," Carney said when asked why he had not fronted the media earlier.
He said his life off the park was more settled but acknowledged his track record meant he would remain under heavy scrutiny.
"That's been like that for the back end of my career and I'm happy with that.
"... Every rugby league player has to live up to that [scrutiny] but obviously I've been in the papers a lot more than everyone else and I expect that. I'm happy to go about my business."
Sharks coach Shane Flanagan confirmed Carney would get first crack at the Sharks' No7 jersey against the Sea Eagles, with Graham playing standoff.
Flanagan said Carney had been hugely impressive in pre-season and believed the best way for him to shift the focus away from his personal life would be to perform on the field.
"But we're just concentrating on Todd Carney on the football field and if you get that right, we've seen how good he can be. So it's a work in progress and I'm glad we've got him," the coach said of the playmaker.
- AAP