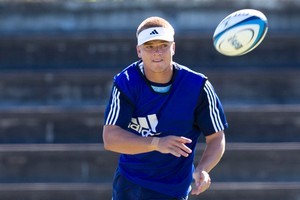 The Blues search for their next backline director steps up this weekend when Michael Hobbs and Gareth Anscombe take turns in a trial game against the Hurricanes.
The pair will share the duties in Saturday's match in Whangarei while a third contender, All Black utility Piri Weepu, is being primed to start the following week's game against the Rebels in Melbourne.
"They both know it is an opportunity being new into the team again. It is about stamping their mark and running the show and then we will review it for the next week," coach Pat Lam said.
Weepu was a contender to play either halfback or five-eighths as he had done with the All Blacks but still had some way to go to reach the physical conditioning of his teammates. He was not alone, other All Black colleagues were also catching up after some downtime in the wake of their World Cup triumph while others such as Liaki Moli would be eased into work after hamstring troubles.
The Blues have trial games with the Hurricanes, Rebels and Highlanders before they open their campaign on February 24 against the Crusaders at Eden Park.
"We have made it pretty clear to everyone it is all about competing and performing really so whatever the best team is everyone wants to be in that Crusaders game," Lam said. "I just laid out the challenge - you just want to be there, you have to compete."
Lam had some idea about his best combination to start against the Crusaders but form, fitness and injury during the next three trial games would impact on that initial selection.
He was monitoring the condition of several All Blacks in his squad and if they were not ready to survive an entire match they would not start.
Some like Jerome Kaino and Anthony Boric had scrubbed up well though, were fit and wanted to get into action this weekend in Whangarei.
Boric and former All Black midfielder Benson Stanley needed medical treatment yesterday during the Blues vigorous opposed session which was held under the gaze of former Blues and All Black supremo Sir Graham Henry. He will visit all the franchises during the next few weeks offering his feedback to the training and technical staff.
Former five-eighths turned referee Glen Jackson was a central figure at training as he took the Blues through some of the rulings with a special emphasis on the tackled ball situations which bedevil players and spectators.
"I think it will continue around the tackled ball but they are making big gains," Lam said.
"There is nothing major that has changed but it is about everyone improving, especially the tackler rolling away because as we know the game is dependent on that for the speed of the ball and that is the quality of the game.
"It is really about everyone making sure the technique is right as far as both attack and defence."
Everyone in the squad was hanging out for this weekend's hitout. The squad had trained strongly and the key to their work now was to implement their systems, combinations and to get a feel for how things would be this year.
"It will give us things to build on for the next two games before we play the Crusaders in the opening game."
Lam expected new midfielder Ma'a Nonu would be up to speed and selection in about round three of the series after finishing his deal in Japan.
The coach and his staff had not tweaked the game plan too much but had looked at ways of sharpening their strategies after finishing fourth last season and an increased emphasis on aggressive defence.
"We want to finish top so you've got to evolve your game structure," Lam said.
The Hurricanes were coming off a troubled season and had lost a number of experienced players but they would use that upheaval to galvanise them for a resurgence this season.