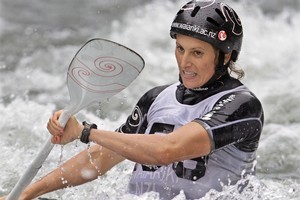 Two canoe slalom paddlers have booked their places in the New Zealand Olympic team for this year's London games.
Mike Dawson and Luuka Jones have confirmed their spots in the men's and women's events respectively.
Dawson will be the first man to represent New Zealand in mens canoe slalom since the 1996 Olympic Games in Atlanta, while it will be Jones' second games after competing in Beijing and finishing 21st.
The New Zealand Olympic squad now numbers 14, after 12 sailors were confirmed last month.
Dawson, who has been training Kiwi-style in the rapids on the Kaituna River in lieu of a more suitable artificial course in New Zealand qualified New Zealand as 11th ranked Nation at the 2011 World Championships in Slovakia in September.
Jones now heads to her second Olympic Games, having been the first New Zealand woman to represent New Zealand in her sport at Beijing as a teenager where she finished 21st.
She recorded a second place at this weekend's New Zealand Open Canoe Slalom Championships and qualified New Zealand as the 14th ranked nation in K1M in Slovakia.
Both athletes have spent a number of seasons in Europe competing in World Cup events.
"It's awesome," said a delighted Dawson today on hearing the news.
"Four years ago before Beijing, I was close, but not quite there and I missed the spot. Since then I've spent a lot of time overseas, competing with athletes who are consistently in the top ten in the world. The only way I could catch them was to be open to their training styles and race techniques and adapt them for my own purposes.
"Huge support from my parents, some great sponsorships and "adopting" international families to help with off-season accommodation, transport and training partnerships have enabled me to qualify for London."
Jones said she has also relied on Kiwi charm to help her out on the European circuit and is looking forward to approaching the London Olympics as a strong performing athlete.
"I was young at Beijing and today I'm a totally different athlete. I travel overseas to compete every year, I've halved my body fat and I'm stronger. I'm training smarter and my technique's improved."
Kereyn Smith, Secretary General of the New Zealand Olympic Committee and head Olympic selector is confident the pair will make New Zealand proud. "I am delighted to name these two outstanding athletes to the Olympic Team," she said. "While we have a tradition of fielding strong teams in water-based sports, canoe slalom has remained largely on the fringe. Both Mike and Luuka are changing that and have demonstrated they are at a level with the world's best."
- NEWSTALK ZB/HERALD ONLINE