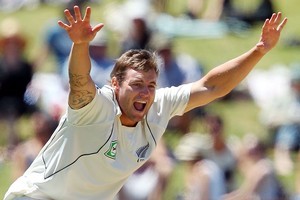 Four months ago an uncapped Doug Bracewell was named to tour Zimbabwe and not even New Zealand coach John Wright would have predicted his selection punt would come off so well.
But, in the past 120-odd days, Wright has seen Bracewell bowl his side to two test victories, exceed expectations and improve every time he wears the silver fern.
There seems to be something about Bracewell, son of former test player Brendon, nephew of former national coach John and cousin of Otago first-class player, Michael, that makes him thrive on a challenge.
When he was picked to tour Zimbabwe last year, his first-class bowling average was a shade above 38, hardly the sort of figure that jumps off the page.
Maybe it's lucky he was picked before the controversial selection pie chart was installed to judge future New Zealand players otherwise he may have spent the summer in a Central Districts uniform trying to improve his numbers.
The 21-year-old bowling all-rounder now seems to be an automatic selection in all forms of the game for the Kiwis and he showed more of that promise with his bowling display in the one-off test against Zimbabwe during the weekend.
While Chris Martin stole the show with the ball as he claimed match figures of 8-31, Bracewell picked up five wickets, including 3-26 in the second innings.
His batting is still impulsive and if he wants to hold his own at eight or nine in the New Zealand test line-up he might want to temper those urges to swing the blade, but he is a clean striker of the ball.
Since his test debut against Zimbabwe in November, where he claimed 5-85 on the fifth day to spearhead New Zealand to victory, his first-class average has been whittled down to 33.07 and that figure will only drop as he improves.
But, for all that is written and discussed about the young man with a last name that is one of the most well-known in New Zealand cricket circles, nothing seems to bother him.
He might have good reason to think this test cricket is easy stuff considering three of his first four tests have resulted in victories to New Zealand, while he has claimed 21 wickets at an average of 16.47.
"It is a dream start ... three from four, you couldn't ask for more. May as well hang the boots up," Bracewell joked after the rout against Zimbabwe was complete.
"It's been awesome. So hopefully we can continue the form, myself and also the team and can continue some momentum into the one-day and Twenty20 series."
That brings us to Bracewell's next assignment, which is to produce those individual displays for the limited overs sides, with three one-dayers and two Twenty20 matches to be played against Zimbabwe during the next two weeks.
"I enjoy the Twenty20 and the one-dayers and I've been going all right in Twenty20 for CD, so hopefully I can continue that form on to the international stage."
Despite the beating Zimbabwe took in the one-off test during the weekend, where New Zealand posted their biggest innings victory as they triumphed by an innings and 301 runs, Bracewell expected the visitors to come back stronger in the shorter forms.
"They've got a few guys in the top order that can strike it pretty clean and if they get away they can be pretty hard to stop. So, like I said, we can't give them anything and we've just got to keep going hard and looking to take wickets and hopefully our batters continue the way they're going and score some runs."
The first one-dayer is in Dunedin on Friday, before the sides meet in Whangarei on Waitangi Day and contest the third 50-over fixture in Napier on February 9, with Twenty20s to follow in Auckland and Hamilton on February 11 and 14 respectively.
- APNZ