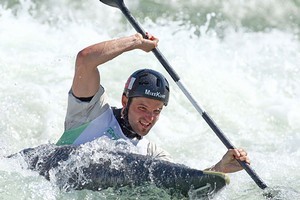 Swiss kayaker Michael Kurt has won the New Zealand Open canoe slalom K1 title for the second consecutive year, beating a star-studded field of international paddlers on the Mangahao River near Palmerston North today.
Kurt, ranked seventh in the world, posted a clean run in the 10-boat men's final, recording a time of 91.74secs. He was just 0.36 secs ahead of Fabian Doerfler (Germany), with Canadian John Hastings a further 0.94 secs back in third. Top Kiwi Mike Dawson picked up two 2sec penalties in the final to drop him back to seventh, with a time of 97.95secs.
Young Czech star Karolina Galuskova narrowly beat Kiwi Olympian Luuka Jones for the women's title, with the 17-year-old posting a time of 111.48secs. Jones was just 1.39secs adrift, with third place going to Tauranga-raised Ella Nicholas, who has also qualified an Olympic place for the Cook Islands.
In the C1 category, top Argentinian Sebastian Rossi and Australian Ian Borrows went head-to-head, with Borrows grabbing the title by 1.27secs. Tauranga's Shaun Travers was the best of the locals in third, 8.19secs behind the winner.
Results:
NZ Open Canoe Slalom (Mangahao RIver, Manawatu)
K1 men: Michael Kurt (Switzerland) 91.74secs 1, Fabian Doerfler (Germany) 92.10 2, John Hastings (Canada) 93.14 3, Vavrinec Hradilek (Czech Republic) 94.24 4, Eoin Rheinisch (Ireland) 94.63 5, Pierre Bourliaud (France) 96.65 6, Mike Dawson (NZ) 97.95 7, Tobia Kargyl (Germany) 97.95 8, Hermann Husslein (Thailand) 106.70 9, Aaron Osborne (NZ) 155.75 10.
K1 women: Karolina Galuskova (Czech Republic) 111.48 1, Luuka Jones (NZ) 112.87 2, Ella Nicholas (Cook Islands) 118.11 3, Kathleen Taylor (Canada) 120.65 4, Louise Jull (NZ) 120.65 5, Rosalyn Lawrence (Australia) 122.56 6, Jane Nicholas (NZ) 123.76 7, Nikki Whitehead (NZ) 130.82 8, Jessica Bailey (NZ) 138.82 9, Anna Higgins (NZ) 143.12 10.
C1 men: Ian Borrows (Australia) 104.60 1, Sebastian Rossi (Argentina) 105.87 2, Shaun Travers (NZ) 112.79 3, Shaun Higgins (NZ) 114.09 4, Ben Gibb (NZ) 116.66 5, Cole O'Connor-Stratton (NZ) 124.56 6, Bryden Nicholas (Cook Islands) 124.64 7, Tommy McDowell(NZ) 138.48 8, Daniel Munro (NZ) 273.26 9, Blake O'loughlin (NZ) 277.60 10.
- APNZ