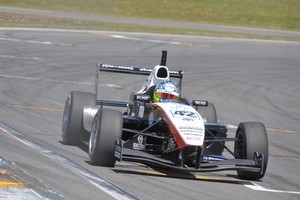 Over the past eight years the Toyota Racing Series has gone from strength to strength.
The series has always attracted international drivers and this year is no different.
The championship has 15 international drivers this year for the five-round championship to do battle with four locals.
The growing reputation of fast Kiwis in Europe - the likes of Richie Stanaway, Mitch Evans, Brendon Hartley and Earl Bamber - have made a number of movers and shakers in European motorsport sit up and pay attention.
Bob McMurray, who spent 33 years with the McLaren Formula One team, now lives back in New Zealand and is adamant the TRS series is a good place to learn professional racing.
"Unlike this time of year when drivers are testing against each other, here they are racing against each other," said McMurray.
"A number of overseas teams and managers are sending their drivers down here to assess how their drivers will do. Here they'll learn about communicating with the engineer, PR people, the press and the like. When these drivers get back home they're mentally and physically race fit."
McMurray knows a thing or two about racing but there are others who have brought their young guns Down Under to learn the tricks of the trade.
Peter Collins worked with Colin Chapman at Lotus before moving on to be team manager at Williams F1 and then co-owner of Lotus F1. He thinks the TRS championship is a very good learning ground.
"I sent Sten Pentus down here a couple of years ago when nobody rated him at all," said Collins. "He came for motor racing saturation and when he arrived back in Europe he was sharp. That's why we're here again with Nathanael Berthon."
Praise indeed. Stephen Giles, who was McLaren F1's chief mechanic said: "This is a good stepping stone on the path to Formula One. There is no other class in this part of the world that offers such quality especially this year." Yet another bloke who has seen it all at the top of motorsport, Dave Stubbs who also was a Williams F1 team manager and in charge of the Dutch A1GP team, likes our series.
"The circuits down here are a lot different from those in Europe," said Stubbs.
"They're narrower and twistier. A lot of the tracks in Europe are now lines drawn on a bloody car park."
After two rounds of the series two Kiwis, Nick Cassidy and Damon Leitch are at the top of table with Puerto Rican Felix Serrallas in third and Brit Damon Hill fourth. However, yesterday it was another Briton, Jordan King, who showed a clean pair of heels in qualifying from Austrian Lucas Auer, Josh Hill and Netherlands driver Hannes van Asseldonk. There were 12 drivers who dropped under the existing lap record. When the lights went out, King led out of turn one and was never challenged.
"I think it was the quickest first lap I've done," said King who set a new lap record.
The results are provisional going to press. The best of the Kiwis was Cassidy in fifth.