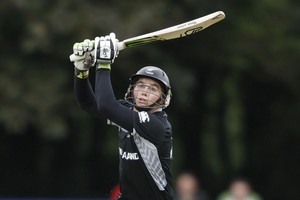 Tom Latham's in his first full season for Canterbury but his crisp left-handed ball striking and useful glovework mean he is the latest recruit to join a line of New Zealand batsmen-wicketkeepers with aspirations to succeed Brendon McCullum.
Latham caught the eye of New Zealand coach John Wright and has been picked for the three one-dayers against Zimbabwe starting on Friday.
The 19-year-old's 130 runs off 119 balls to help Canterbury win a Ford Trophy one-dayer against Wellington last week was the catalyst for his selection. He is picked as a batsman in the one-day squad but his keeping credentials will have been noted.
He joins one of the strongest contingents of keeper-batsmen in New Zealand cricket history to make the top level, with BJ Watling, Peter McGlashan, Gareth Hopkins and Reece Young keeping for New Zealand in McCullum's absence.
Having a relatively famous dad means Latham has spent his youth suffering comparisons to father Rod who played test and one-day cricket for New Zealand and provincial rugby for Canterbury.
Latham junior has now stepped beyond that shadow but rather than modelling his game on his father, he is understood to prefer Adam Gilchrist as a cricketing benchmark.
Latham averages 25 from 13 innings in nine first class games for Canterbury, while in nine one-dayers, he averages 55 with a strike rate of 96. His strike rate in two T20 bats this summer is 156, including 53 off 31 balls against Central Districts.
Canterbury coach Bob Carter says Latham's worthy of fast-tracking: "He works hard, has a lot of skill - especially as a batsman - and is diligent in his approach; a stickler for routine. He plays well off both feet and is moving them better this season. He worked hard in the off-season, getting into better shape and building his stamina. He showed what he is capable of to himself as much as anyone making that 130.
"His wicketkeeping skills will come. He's steady and efficient behind the stumps but is good enough to warrant a place [in the Canterbury team] as a batsman. He also made a good impact in our Twenty20 set-up as a fit and enthusiastic fielder who gets to the ball quickly."
Former New Zealand cricketer Peter Fulton led Canterbury to this year's HRV Cup T20 final and to the Plunket Shield title last year as he tries to build a culture of camaraderie to match that of the triumphant Canterbury sides in the mid-1990s. Fulton says Latham fits comfortably into that mix.
"He's forced his way in by ability [for his club team Burnside West-University] and his performances speak for themselves. He's quiet, respectful and willing to learn. He keeps to himself and goes about his business in an understated way. On occasion, he's come in and looked like he's been playing at the top level for 5-10 years. He has a good temperament matched by a strong technique. He is small in stature but hungry to score runs.
"Tom fits into a culture where we try not to make players buy into rules and restrictions of what you can and can't do. We try to get rid of team-building cliches. Teams operate best when they police themselves rather than anyone carrying around a big stick."
Latham came through Christchurch Boys' High School known by many as 'The Factory' due to the number of All Blacks and Black Caps it produces. He went on to be picked in the New Zealand under-19 rugby squad as a hooker before giving the game away to concentrate on cricket. He was the opening batsman-keeper for the New Zealand under-19 side at the 2010 World Cup before spending a season with English county Durham courtesy of Canterbury coach Paul Wiseman's past links.
Former under-19s coach Chris Kuggeleijn remembers a player who was cricket-smart: "He was a lot like BJ Watling - a batsman first who also keeps. He knows the game and has a feel for what's going on. He has a great work ethic and can play aggressively."