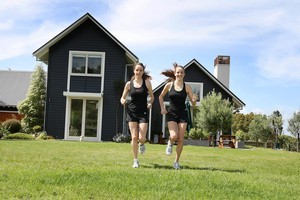 Rising Kiwi middle distance athlete Lucy Van Dalen will make the change from spectator to competitor at next month's Millrose Games in New York after being invited to compete at the world's most famous indoor athletics meeting.
For the past three years, US-based Van Dalen has been a fan, alongside her twin sister Holly, at the New York-based indoor track meet, first held in 1908.
Yet such has been her excellent form on the US collegiate circuit - which included an impressive 4 minute 32.90 second mile in New Haven in December - the fastest indoor mile in the world this season - she was invited to compete in the star-studded Wanamaker Metric Mile on February 11.
There the Wanganui-born athlete faces a top-class field including world 1500m champion Jenny Simpson and reigning world indoor champion Kalkidan Gezahegne of Ethiopia.
Val Dalen said she received news of the invitation while in New Zealand on a Christmas break from her Masters studies at Stony Brook College on Long Island.
Now the 23-year-old is determined not to let the chance slip.
"It is just a really good opportunity for me to race against some world class athletes," Van Dalen told the Herald on Sunday. "I don't really get the opportunity to run against such high class athletes apart from at the NCAAs [the premier US national collegiate competition]. I'm really honoured to be able to race against those girls.
"For the past three years, I've been to the Millrose Games [as a fan], so it is quite funny to be running it. It is quite surreal."
The only slight disappointment for Van Dalen is the 105th Millrose Games will be run at the Armory track in uptown New York after moving from the iconic Madison Square Garden.
Van Dalen, the 2011 NCAA 1500m silver medallist, will be pitched up against a top class line-up but is not bothered.
She has gained a reputation as one of the stand-out performers on the US collegiate circuit and is confident of a good performance.
"I'd like to be a part of the race and in the mix right until the end," she says. "I think it will probably be quite tactical. You always want to do your best and if a fast time comes with that, then great."
Van Dalen left to study at Stony Brook in 2007 with Holly (who is currently injured) and such is her form she could yet force her way into selectors' minds for the London Olympic Games.
With a 1500m personal best of 4m 11.59s set in Italy last year, Van Dalen is still shy of the 4m 07s Olympic qualification mark - a time attained by Commonwealth 1500m silver medallist Nikki Hamblin last year.
Yet given her encouraging form this winter, with the potential for more European races and another winter's training behind her, it is far from mission impossible.
"I have given it [the Olympics] a thought but my main focus is to perform well in the NCAA's indoors and outdoors and then I'll go back to Europe after NCAA in June and race over there and if I get the time, I'll get the time."
In her last semester at university, she knows 2012 will be a pivotal year in her career. She is undecided about whether to return to New Zealand or remain in the US and will make the decision in June.
"I'd love to continue as a professional athlete," she says. "That would be the ultimate goal."