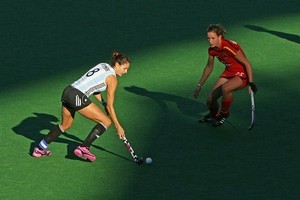 The taxi driver didn't disappoint. Driving from Rosario's modest airport into the city centre, Fernando took less than five minutes to switch the subject to hockey.
"Everybody here is loco about hockey at the moment," he said as the speedometer hovered around 130km/h. "They are our team. They are a great team but, for me, the best thing about them is their legs."
Besides their admired physiques, the hosts don't come into the tournament in great shape. Like New Zealand, they have endured a mixed build-up.
Their all time leading scorer, Soledad Garcia, was cut from the squad after an apparent personality clash with the coach and they are entering a transitional phase after the retirement of several players.
As Fernando would later say on their winning chances: "Es complicado, senor [It's complicated]."
He could be talking about several things here. Exchanging money is tightly controlled, as the relative value of the peso to the US dollar has plummeted in recent years.
Airport banks will only serve foreigners armed with a boarding pass of that day and they are unable to buy back the local currency upon departure.
Apart from being the birthplace of Che Guevara and the city that inspired Argentina's famous flag, Rosario is also known as the cradle of Las Leonas (the lionesses).
It has produced many great players, none more famous than the iconic Luciana Aymar, sometimes referred to as the Maradona of hockey.
Numerous billboards featuring the team are everywhere, imploring locals to "come and see 11 monuments to our nation's flag".
This city witnessed triumph in the 2004 Champions Trophy and 2010 World Cup, and more than 50 journalists converged on Argentina's press conference yesterday.
"They are a very good, aggressive team," their coach Carlos Retegui told the Herald on Sunday about the Black Sticks. "They are dynamic, fast, strong and very fit. Their style is very attacking and we have to be ready."
On the other side of town, at Estadio Mundilista, the Black Sticks held their final training session. Coach Mark Hager is convinced the team is ready to show its true colours.
"We are now out of excuses," says Hager. "Today against Argentina in front of a packed stadium will be a true test but hopefully that will bring out the best in us."
Can the Black Sticks turn things round? It is a big ask, with Korea and Great Britain in hot form, traditional powerhouses Germany and Holland ready to fire and the host nation backed by a passionate capacity crowd.
Es complicado, senor.
* Herald on Sunday writer Michael Burgess travelled to Argentina with assistance from Hockey NZ.