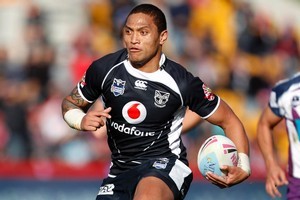 Manu Vatuvei's thundering thighs will be coming to a high definition television near you during next Saturday night's NRL All Star Game - but it's a case of wait and see when it comes to television coverage of the Warriors and the 2012 NRL season.
Sky Television's deal to broadcast the NRL expired at the end of last season and negotiations over a new contract have stalled as the NRL attempts to transfer the game's governance to a new independent commission.
An NRL spokesman described negotiations over New Zealand broadcasting rights as "ongoing'. Sky chief executive John Fellet, however, said Sky had tabled an offer two months ago only to be told by the NRL that nothing could be signed off until the independent commission - the body that will run the game following News Ltd's departure - was in place.
Reports in Australia suggest the commission could be in place as early as Tuesday next week. However, many such dates for the takeover have come and passed without event.
"Two months ago we sent them a proposal," Fellet said. "They thanked us and said 'look, we really can't deal with this until we get the new commission.' I don't know where they stand on that but I am sure the new commission will get formed pretty soon."
While that would open the door for talks to resume, the negotiations might be fraught. Maximising broadcast revenue to bring league into line with what networks pay for ARL games is a central plank of the new commission's formation. Sky, on the other hand, is understood to be seeking a reduction in the amount it pays due to falling ratings. "It would be true that they are trying to maximise [revenue] and it would be true that we are trying to get what we think is a fair value," Fellet said.
He declined to reveal specifics, however a recent report in the Sydney Morning Herald valued the NRL's previous deal with Sky NZ at A$14 million a season.
While Fellet described the battle for the rights as an "open contest", in reality Sky appears to be the only entity capable of meeting the NRL's asking price. Maori TV broadcast delayed coverage of Manly's games last season and provided coverage of Auckland's Fox Memorial competition. While the station viewed league as a desirable product it didn't have the financial clout to compete with Sky, chief executive Jim Mather said.
While some Sky insiders involved in producing the network's league coverage are privately nervous about the state of negotiations, the prospect of the network dropping the NRL is minimal. The NRL is a major subscriber driver for Sky and the broadcasting deal represents the company's second-largest contract.
While there is some suggestion the parties will look to agree a one-year deal to bring the contract into line with that of Australian networks Fox and Channel Nine, which expires at the end of 2012, Fellet said Sky's contract had always been out of sync with Australian networks and its preference was to secure a five-year deal.
"It's their call," Fellet said. "We always prefer five-year deals because in five-year deals there will be a great year, a bad year and three pretty normal years, so you spread your risk out a little bit better. But it's up to them."
Fellet indicated it was possible Sky would continue to broadcast NRL matches even if the parties had not reached an agreement when the season starts. "That's not uncommon but you'd rather get these things put to bed ahead of time."