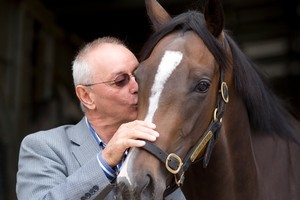 Kevin Marshall knows tomorrow won't be a normal day at the races because his mate Hoefty has had to buy a suit - just in case.
In case Marshall, his brother Peter and their friend Stephen Hoeft are central characters in one of the great fairy tales of modern-day racing in the Karaka Million at tomorrow night's Ellerslie twilight meeting.
The Auckland trio own Dreamcoat, a $5000 purchase at the bargain session of the Karaka yearling sales less than a year ago, who is a starter in the $1 million dash for cash tomorrow.
Dreamcoat will be taking on horses bought for hundreds of thousands more than her, owned by racing royalty, including two high-profile Australian raiders.
But the first-time horse buyers won't be overawed.
"We have owned horses before by leasing them but we had never actually bought one until this filly," said Marshall, a land surveyor. "So now she is here racing in a $1 million race we are all pretty excited. Hoefty had to go out and buy a suit so we all look the part mixing with the other owners before the race.
"But while we might have to dress a little different we aren't intimidated. She has earned her right to be there and if the track stays dry we have a chance."
The mates decided to spend up to $20,000 to buy Dreamcoat last February because they had initially leased her dam Eloquent Dancer years earlier.
"We did all the pedigree checks and asked the right questions but we never expected to get her for $5000."
They sent her to trainer Stephen McKee, of Sunline fame, "because she is like our baby and you want your kids to have the best".
With a winning stake of $550,000, or 110 times Dreamcoat's purchase price, the race could be a life-changer for her owners, because as a filly she would also skyrocket in value if she wins our richest race.
"Fair to say there have been some sleepless nights this week but we have got a lot more than our $5000 worth of fun out of her already.
"Anything now is a bonus and Peter and I are just thrilled to have a horse racing for $1 million because our mum, Valda, who has passed away, would be so proud.
"She loved the horses and got us into racing. She'd love this."
The Karaka Million race night is one of Ellerslie's glamour nights, hosting socialites as well as hundreds of overseas buyers here for the yearling sales which start on Monday.