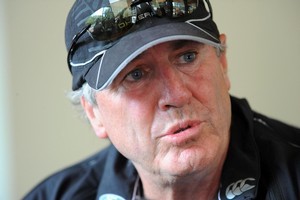 Every now and then something happens in sport which leaves you thinking: "What was that all about?"
You scratch your head and wonder how it even happened in the first place.
Take the idea floated this week that John Wright might not fancy coaching New Zealand after his contract ends around mid-year.
Consider the background.
Wright has been keen on the New Zealand job for years, only to be overlooked.
Now he's the man, and making a top fist of it. There is a buzz around the team. His team. So, if all the eggs are in line, why walk away?
Remember recent coaching events around the team.
After John Bracewell moved on late in 2008, Andy Moles had an ill-starred year - he proved wholly unsuited to the job, having evidently been some way down the preferred pecking order in the first place but those ahead of him, for a range of reasons, bailed out - before Mark Greatbatch stepped in.
But the specifics were messy. Former test lefthander Greatbatch was to be a batting overseer, but became, almost by default, coach.
Wright took charge in December 2010. After losing to Pakistan, badly, in Hamilton five minutes after he had taken over, New Zealand reached the semifinals of the World Cup on the subcontinent.
Zimbabwe were beaten on their turf in the only test in November, four of five limited-overs internationals were won, with one lost in the final over of a thriller in Bulawayo.
Then New Zealand did what seemed unthinkable and beat Australia in Hobart to square their series last month.
NZC chairman Chris Moller yesterday expressed bemusement at the issue being "out there".
New chief executive David White takes his seat next week. The reappointment of Wright won't necessarily be at the top of his in-tray, but may not be far below that.
He will sit down with his old Northern Districts teammate at some point, perhaps at the end of the South African tour, which wraps up late in March, perhaps sooner, to check the lie of that particular land.
Wright has the support crew around him he wants, and the players relate well to him and his work ethic. There is a distinct feeling that things are heading in the right direction.
Unless it all suddenly goes far off kilter in the next few months - and there's not a skerrick of hard evidence to think it will - why would NZC want to even contemplate returning to the coaching merry-go-round of a couple of seasons back?
Answer: they wouldn't.
Wright's stock is high. The World Cup is being co-hosted by Australia and New Zealand in 2015. Bedding their man in until then seems logical.
So when the White-Wright chat takes place, any wrinkles should be quickly ironed out, followed by a conversation on the lines of, "All good, mate? No problems? Right, sign here..."