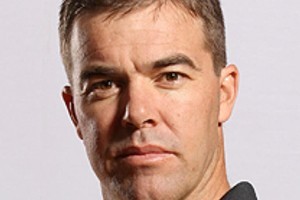 Time was when Zimbabwe were a highly competitive international side.
From the late 1980s through to the early 2000s, they had a core of performers who possessed talent and had a tough-minded attitude towards the game.
Players like Dave Houghton - scorer of a terrific century against New Zealand at the 1987 World Cup - Andy and Grant Flower, Alastair Campbell, Paul and Bryan Strang, Eddo Brandes, Guy Whittall and Heath Streak all ensured Zimbabwe were always up for a decent challenge.
But it's a vastly different story now as Zimbabwe start to find their test feet again after taking leave of the five-day game for a few seasons.
The volatile political situation under the despised dictator Robert Mugabe has hurt all aspects of life in that country.
The 2000s had an exodus of experienced players: Andy Flower and Henry Olonga wore black armbands at the 2003 World Cup; Streak himself was sacked in 2004 after taking players' grievances to the politically-operated board; current wicketkeeper Tatenda Taibu had a turn then resigned and fled the country for a time.
All this contributed to there being few senior figures for the next group of players to lean on for advice.
When Zimbabwe returned to the test fold last August, they had not played a five-day match since September 2005; their last test away from home was seven months earlier.
Since returning, they beat Bangladesh, gave Pakistan a decent run, and came within 34 runs of toppling New Zealand in Bulawayo in November.
They have two of their old favourites, Grant Flower and Streak, as batting and bowling coaches, assisting head coach Alan Butcher in New Zealand.
Flower scored six test and six ODI hundreds, including 104 and 151 in a test against New Zealand at Harare in 1997; Streak took 216 test wickets at a highly respectable 28.14 over 65 tests.
Things are starting to pick up, said Streak.
"Obviously we're in a rebuilding phase. The squad we've got in terms of age and the amount of cricket they've played, are relatively young.
"For us it's about giving them experience and the more they play at top level the better gauge you get of their ability and if they've got what it takes to play at the top level."
Domestic cricket is slowly making progress.
Houghton, former Australian quick Jason Gillespie, and other ex-Zimbabwe internationals Kevin Curren and Gary Brent are coaching Zimbabwe's franchises.
But it will take time.
"The first three tests have proved we have the ability to play at this level. Winning against Bangladesh was a huge positive for us.
"The tough part is inconsistent performances. One day can be really good, the next not as good. That's the challenging part."
Yesterday's rain, cold, and wind was an eye-opener for young men used only to the parched brown land of home, but more of the learning process.
Streak has been bowling coach for about two years, Flower overseeing the batting for around one year.
Young seamer Kyle Jarvis spoke of the importance of Streak to the bowlers, for whom there is no obvious senior figure. They're all learning on the run together.
"Heath's been there and done it before in similar circumstances of a quite young team environment.
"He brings a lot of knowledge, it's small things, actions, wrists, basically everything and he's always willing to help the guys."
Streak doesn't want to sound like an "in my day" older figure, but remembers his learning years when players like Brandes and Houghton were sounding boards and influential figures - "when they spoke you listened".
"The exodus of players left a huge void in experience and a lot of these guys have grown up in a changing room where there hasn't been a lot of experience to learn from."
Streak wants the players to get enough cricket under their belts to gain greater understanding of their game so "they can stand up to the rigours of playing international cricket".
This journey will be long, but Zimbabwe look to be in good hands.